This site contains affiliate links to products. I may receive a commission for purchases made through these links.

"Five minutes to curtain!"  
It is time.
Time to learn how to get rid of those pesky nerves before your next performance!
Is this you? 
Heart racing? "Check."
Palms sweaty? "Yep."
Face clammy and pale? "Is it that noticeable?"
Mouth dry as the Sahara desert?  "Yeth."
Memory gone? "What are my first words again?" 
Dealing with nerves going into a performance can be one of the biggest barriers to vocalists moving forward and realizing their dream of taking the stage.
But it doesn't have to be this way. You just need to understand how to manage your performance anxiety. It is time to make friends with your nerves!
Nerves Are Normal
Friend, listen to me. If you are feeling nervous as you head into a performance: You. Are. Normal. 
Nerves are simply your brain doing everything it can to keep you safe! It goes back to the days when we were in danger of being gobbled up by a lion. The brain pushes the fight, flight or freeze response forward so that you are ready to RUN! Today's version of the lion is standing up in front of an audience and performing like a boss. What you must do is help your brain know that you are actually safe!
Here are 11 things you can try to help you manage those pre-performance jitters.
1. Practice and Prepare!
You will feel a heck of a lot more confidence if you know you've put in your hours of preparation in advance. There is no feeling so scary as coming into a performance having not done the work ahead of time. So put the time in the practice room to ensure that your voice is on point and ready to go. Closer to the actual performance, start to practice your speech or music set from top to bottom. Practice in the outfit you will be wearing, in the same stance (Standing? Sitting? Do it exactly as you will during the performance). If possible, use the same equipment and lighting so that you have a sense of familiarity when you go on stage. Offstage, take time daily to prepare your mind by doing a mental visualization of yourself performing brilliantly. Practicing your performance mentally will help your brain remember that you are safe and that this is natural to be on stage.
2. Know Your 'Why'!

 
Let me say it louder for the people in the back: Stop thinking and obsessing about your anxiety. Stop it. You've got to get out of your own head when you get up there to perform. This is easier said than done, I realize, but you gotta do it!
Instead, start thinking about OTHERS and what you bring into the world with your voice. You feel a sense of calling, right? Put the importance on the impact of your message. Think of how much you are going to help people by sharing your gifting with them.
Focusing solely on how nervous you are will just make you more nervous, sometimes to the point where you can't function at all and then nobody gets to hear from you. That's a tragedy! Know WHY you are called to get up on that platform and place a laser focus there.
3. Stop focusing on not making mistakes!
Tell yourself the right things. Instead of "Don't mess up!" tell yourself "You got this!" Focusing on messing up just makes you more self-conscious. Go for being your own biggest cheerleader with a positive focus on doing well and believing that you've got what it takes.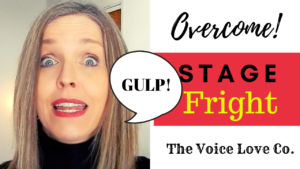 4. Use a 'grounding prop'.
Take an object like a sweater you wear right before you go on, a certain guitar pick or piece of jewelry, even a pen will work! Imagine flinging all your nervous energy into that prop and then lay it down and go on to perform.  It tricks your brain into believing that you've let go of your anxiety!
5. Breathe!
A technique called Progressive Breathing is fantastic for quelling nerves. Focus on keeping your inhale and exhale slow and measured. Breathe filling your lungs from bottom to about the breastbone. Don't overfill your lungs. 
Inhale on a two count. Exhale on a two count.
Then repeat on a four count, then six count, then eight count, then ten count.
If you start to feel like you are smothering as the count gets higher, back off and don't do as many. Listen to your body.  The ability to breathe deeply is the first thing to go when the adrenaline starts pumping. Do all you can to get much-needed oxygen into your body before a performance. It will help to counteract those nerves, get you centered and ready to perform.
6. Active Relaxation!

 
Before you perform, sit or lie down quietly and breathe relaxation into every part of your body while staying focused and alert. Breathe into your hands and feel the tension leave your hands. Breathe into your shoulders and imagine that your tension is leaving your shoulders, and so on. Imagine that your stress and tension is leaving each part of your body that feels tension with each breath. The more vivid your imagination on this exercise, the more effective. 
7. Power Pose!
You may feel like hand wringing, pacing or lying in the fetal position just before you go on. Nope. Adjust your body language! Do some empowering movement instead.
Stand in the Wonder Woman pose. Feet grounded with hands on the hips and standing tall and proud. Or stand like Superman taking off with both hands raised in fists to the sky. Hitting a power pose is scientifically proven to make you feel like a boss. Give it a try!
8. Get an Alter Ego!
Something I encourage my clients to do is choose an alter ego to help them with this particular performance. Hey, Beyonce had Sasha Fierce to help her until she admitted she didn't need her anymore. If it worked for her, it might work for you! Choose your own alter ego. Find a character or person whom you can portray when you take that platform. Playing the role of someone else you admire for their bravery and strength can sometimes help you get out of your own skin and enter into a more empowered and confident state of mind. Be yourself, or a better version of yourself, with an alter ego firmly in place for this performance. A great read on this subject can be found HERE.
9. Perform. Then perform. Then perform some more!
I tell my clients that the first time you get up to speak or sing, it is going to be very difficult. Not gonna sugar coat it. You are going to feel scared because it feels unfamiliar. But it gets easier the more you do it.
You may be like some of my clients who actually perform BETTER under pressure on the platform than they even do in their private lesson time with me. I'm always amazed by this phenomenon! Are you like this? You will never know this about yourself until you get up on stage and perform. Get that first performance under your belt! Then be sure to schedule the next one on your calendar as soon as you can. It gets easier, I promise!
10. Cut the caffeine. Cut the sugar.
It is imperative to remember to monitor how much caffeine and sugar you are taking in leading up to your performance!
Often when you are headed toward a performance you have not been sleeping well due to being so busy with preparations, so you drink more caffeine to help. By the time you get to performance night, you are a jittery mess. Instead of drinking caffeine, lay down for a rest. Drink more water to help your brain feel more refreshed and awake. Limit your caffeine intake, especially if you know you struggle with nerves.
Additionally, sugar is your arch enemy when it comes to anxiety! When we are anxious, generally one of the first things we reach for is sugary carbs! But did you know that sugar makes your anxiety worse? If you are not already following a low carb diet (highly recommended if you struggle with anxiety!) go off of carbs and sugar, including fruit juice and high glycemic fruits and veggies, for 24 hours in advance of when you take the stage. You will find that keeping your blood sugar stable and not allowing it to spike with crazy sugary drinks and foods, will help you feel more level.
11. Jump Around!
Put on some kickin' music in your headphones from a playlist you listen to regularly that you know is going to get you pumped up mentally and jump up and down to the beat of the music. Physical activity like this disrupts any obsessing about how nervous you are. If you can do something that makes you feel physically strong, it will make you feel mentally and emotionally strong. Stop and give your body time to allow your heart rate and breathing to steady before you step on stage so you aren't winded when you start to speak or sing. Drink a swig of water and off you go!
You Got This!
Nerves can actually create the magic in your performance. If you weren't a little nervous, your performance could be lackluster and boring. Understand the connection of the mind to your performance. Feeling nervous, especially if you are just starting out, is a natural part of the process of stepping out of your comfort zone. Do all you can to care for your mind and heart around the issue of fear and nerves. 
Power pose…and GO!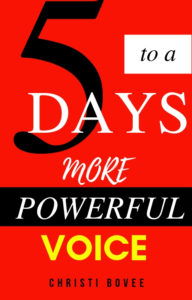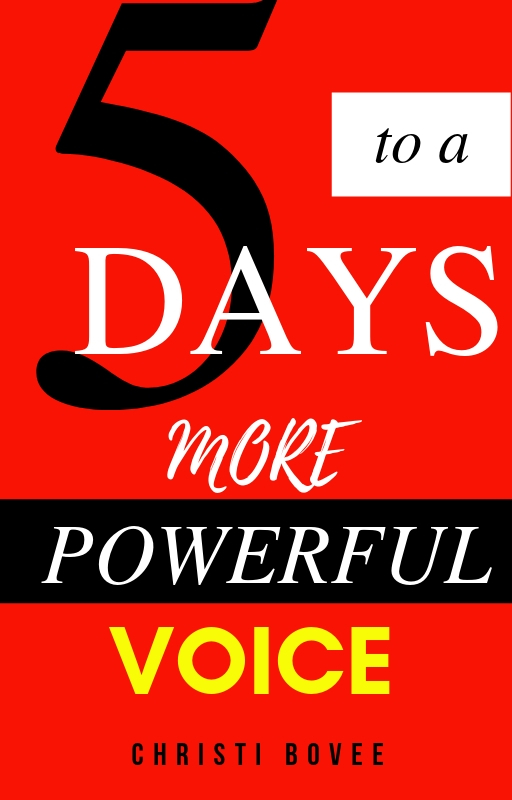 Gain much-needed confidence in your voice with my free Five-Days to a More Powerful Voice video e-course. Learn how to find your more powerful voice and move confidently towards your goals with your voice by taking this course! Details HERE!