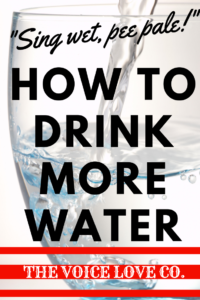 There is only one thing I remember learning my first year as an opera major back in the day.
A professor swept into the room whose name now escapes me. He was an elegant gentleman who was knowledgable and well-respected and wore scarves. I am certain that this learned man would cringe to know that the only thing I remember learning as an 18-year-old freshman at his top-ranked college of music is this:
"Sing wet, pee pale!"
Words to live by.
Powerful words.
Words that have been my motto ever since.
I have actually thought of making them into a huge sign for my studio, but let's be real. Who's got time for that? I'm too busy drinking water and running to the bathroom.
Yes, dearies, I'm speaking once again about my love affair with pure water and how to drink lots more of it this year.
It is so incredibly good for you, whether you use your voice on stage or not. Water needs to be a MAJOR part of your life as a human being every single day. No exceptions.
Look, your body is 70% water. Making sure that you are staying properly hydrated will affect every cell in your entire body positively.
Water and Your Voice
As vocalists, we need to make EXTRA sure that we are hydrated to the optimal level. If you run your tongue along the inside of your cheek, what you feel is the mucous membrane. This is what covers the vocal folds as well. Just as your mouth gets dry when you are dehydrated, so too do the vocal folds, especially if you are singing or speaking a lot. That mucus membrane needs to remain in a constant state of hydration to allow the vocal folds to vibrate properly.
But did you know that the water itself never touches the vocal folds?
The vocal folds sit at the top of the windpipe and below the epiglottis inside the larynx. The epiglottis acts as a trap door over the windpipe to keep us from choking on water or food. Even though water never touches the folds themselves, taking enough water into your body, keeps that mucous membrane hydrated. It also provides hydration to keep the natural mucus that coats the vocal folds flowing. This mucus buffers the natural friction that occurs when the vocal folds are vibrating up to 1000+ times a second. 
If you don't drink enough water, your voice is going to pay the price. Dehydration can actually cause damage to these delicate tissues, especially if you couple it with poor vocal technique.
Am I Dehydrated?
Most vocalists do not drink enough water and some drink none at all.  Do you know the signs and causes of a dehydrated voice?
•Your urine is dark yellow. Yes, this what the 'pee pale' in my motto is referring to. It is the easiest indicator of your hydration level. Urine should be light yellow to almost clear.
•You are thirsty. It is said that if you feel thirsty, you are already headed toward extreme dehydration. You cannot judge proper hydration by your thirst. You must drink enough water to stay ahead of it.
•Your throat feels dry, scratchy or froggy, which leads you to…
•Throat clearing. (It pains me to write these words.) Also…
•Singing or speaking requires vocal effort. (Again, ouch. Please, no.)
•Dry climates can cause you to lose water vapor just by breathing in and out. Humid climates cause you to lose hydration through your sweat.
•Heating and air conditioning can be extremely dehydrating.
•Medications like antihistamines and blood pressure medicines dry you out.
•Drinks like coffee and alcohol dehydrate the body. Foods like dairy products can cause normal mucus in the body to thicken and dry you out as well.
How Much Water Should I Drink?
Chugging a bunch of water just before you hit the stage is not going to cut it. You must hydrate throughout the day every day to get the greatest benefit when it comes time to perform. This needs to be part of your vocal hygiene.
How much water you drink is dependent on how much you weigh. The old adage of drinking 8, 8oz glasses of water a day is not enough water unless you are a smaller person. You see, you need to be drinking half your body weight in ounces every single day. How much do you weigh? Half that number is your number in ounces down the hatch daily.
For some of us, that's a lot of ounces. More than the 64oz recommended by experts. So, how do you get them all in?
How to Drink More Water
Drink early! Set a goal to drink at least half of your total ounces before 10:00 am. When you wake up, you are the most thirsty. Take advantage of that by downing a large bottle first thing. You will find it actually helps you feel more awake as you head into your day. The rest of the day, keep on sipping.
Bottle it! Use a water bottle that you enjoy drinking out of that can help you keep track of your ounces. Like to drink out of a straw? Prefer a glass bottle? Want a bottle that is pretty to carry around? Get your ideal water bottle and set a goal to refill it the number of times each day that it takes to get all your ounces in.
Tap out! Change the quality of your water. I find it very difficult to choke down our city water from the tap. It tastes and smells terrible. I encourage you to look for a Free Water store (not an ad) in your area that shares Kangen water. The water really is free and it tastes amazing. You can also drink a lot more of it in one sitting without it making you feel sloshy and bloated. Because of the way it is filtered, this water has a molecular structure that allows it to absorb into the body almost immediately, making drinking all those ounces a lot easier. Higher quality water can be a game changer in getting more water into your body. Consider finding alternatives to the tap.
Lemon Squeezy! Squeeze some fresh lemon or lime into your water for flavor. Infusing your water with flavors like fresh cucumber and mint can help the water go down, but also have health benefits like maintaining the PH balance in your body and even reduce joint and muscle pain.
Bathroom Breaks
You are going to have to pee a lot more drinking this much water. That's a fact. Get over it. It's good for you! It is how your body is eliminating toxins. Frequent bathroom breaks will be a side effect, but so will clearer skin, fewer headaches, less constipation, greater articulation when you speak or sing and more consistent voice quality. Just be sure that you empty your bladder right before you go on stage (experience talking here).
You will find that the more you make drinking water a habit, the more your body will crave it. Give it a try and let me know how it goes. If you have any other tips for how you get your water in each day, leave a comment below!