Has this ever happened to you?
You are performing like a champ when, without any notice whatsoever, your throat closes up in a huge involuntary swallow (GULP!) that causes you to falter as you sing or speak. Your cheeks flame red. You try hard to get back on track. You are tempted to just throw your hands up and walk off the stage in defeat. It is terrible and no doubt caused by anxiety and fear.
There is only one cure for this malady and many of the others that dog you as a performer, from beginner to pro. It is this: The Practice Cure. Today I'm talking about how daily vocal practice will help take your voice to the next level.
How To Practice
Practice is something that seems to elude many of my students because they simply don't know how to do it. So, here is a suggested daily plan for keeping your voice in top shape so that you can face your next performance with courage and brilliance.
Schedule It
It is said that "if you shoot at nothing, you hit it every time." Over the years, I would say that more often than not, my students have come in for their lesson having done zero practice. They are not fooling me. It definitely shows. The main excuse? "I had no time!"
Practice is not going to just happen on its own. You must schedule your daily practice time into your day and stick to it no matter what. Practice must become your daily habit, something that you just do. You want it to become a predictable part of your daily routine. At first, it is going to feel like a clunky and odd addition to your life. Persevere! Practice every single day for 30 days. After you've done it for a month straight, it will feel odd to not practice. We are trying to get this to be your habit. 
Find a Place
Many of my students ask if it is okay to practice in the car. My answer is always: "Sometimes."
The car is great for a quick warm up when you are in a mad dash to get to your gig or rehearsal now and then, but practicing there all the time can be very limiting. Sitting in a bucket seat of a moving vehicle can throw your body out of alignment, keeping you from getting a deep breath and forcing the larynx to pronate forward into a position that causes stress on the vocal folds. It is also loud and makes it difficult to get a good read on how loud you are.
You need to be in a quiet place where you can practice standing up, moving around and able to concentrate on getting a deep breath and producing a free sound. Get creative on finding another space to practice other than your car.
Focus
When you hit your practice time, do yourself a favor and turn off all distractions. Studies show that you get more done in less time if you turn off all screens and direct messaging. Put your phone on airplane mode. You will survive! You will actually save time and progress more quickly if you stop looking at your phone for these sacred few moments of practice.
How Long Should I Practice?
This question always comes up and the answer is: it is really dependent on YOU and where YOU are at in the journey with your voice.
If you are just starting out, a practice session of 10 to 15 minutes every single day can be hugely beneficial. However, if you are working to change a vocal habit, you're trying to move past a plateau in your vocal growth, you are learning new material for your next performance or you are a working professional, you should be spending 20 minutes bare minimum just on vocalizing. Then you would move on to working on your material.
Bottom line: Practicing every day for a short period of time is much better than one marathon cram session the night before your voice lesson.
Breathe & Stretch
Breathing and relaxation are two foundational pillars of making good sound vocally, so don't skip over them when you start to practice. Take some time to do deep breathing. Then stretch your body gently. If you were preparing to do physical activity like running or weight lifting you would need to stretch and warm up the muscles in your body. It is the same with your voice. Taking time to breathe and stretch sets a tone for your practice session that is relaxed, inspired and open.
Humming
I call humming a diagnostic for your voice. Gentle humming is a great first sound to make when you begin your practice session. It starts to warm up your voice and diagnoses how it is doing today. Start in your low to mid range and slide gently into your upper range and back down. Keep your volume at about half. You can usually detect through humming any trouble areas in your voice that might need some extra love. Next, try making an 'ng' sound, as in the word sing. Put the resonance in the back of the tongue as it gently closes to make that 'ng' sound. Slide up and down in this placement a few times as well. If you are coming off of illness or just having trouble warming up, hum even longer.
Lip Trills
You already know the love affair I have with this exercise, which I call 'buzzing'. The reason I adore buzzing: it takes so much air to maintain the vibration in the face, it brings your breath up to support your voice perfectly. Remember to keep your lips loose, your posture relaxed and your breathing engaged from the diaphragm and not the clavicle and shoulders. Breathe in through your nose and buzz in long phrases. Try buzzing at half voice. Do not force or push the voice. Gentle, gentle, gentle as you slide up and down through your register. Keep the phrases long and connected.
Vocalizing
This needs to be a huge part of The Practice Cure. Vocalizing can be defined as singing (even for you speakers and actors!) exercises of arpeggios and melody lines. It is often looked at as something you just try to rush through so you can get to the fun part…working on your music or script! However, vocalizing is so much more!
When you spend time vocalizing, you give your muscles the opportunity to remember the technique required to do their job in performance. With daily vocalizing sessions, it becomes easy for your voice to perform the way you want it to under pressure. Spending hours vocalizing each week builds the strength and endurance you are seeking as a performer.
There are so many things to think about when you sing or speak during a performance. Daily vocalizing strips it down to pure technique. You've got to spend time with your voice, being present in your body. Doing a vocal exercise on one vowel sound helps you really learn your instrument. This allows you to focus on how all of that lovely resonance feels rolling around inside your noggin. You form the vowel sound in your mouth and then find a great placement for sending that well-formed tone out into the world.
It should be noted that pros spend way more time vocalizing, i.e. working on difficult vocal exercises and material they have not mastered, while amateurs spend their time just going over material they already know. Turn pro. Vocalize.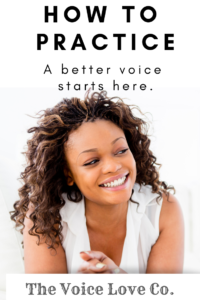 Practice PARTS of Your Piece
After you have warmed up by vocalizing, turn your attention to the material you are learning. Go through PARTS of your song or monologue or speech. Which parts? The parts that are sticky and not flowing freely.  
BREAK IT DOWN…Don't ever just sing or recite your piece from top to bottom at this stage. You will go on automatic pilot and won't get everything out of your practice time that you need to. If you want to bust through vocal plateaus you've got to spend focused time on the parts of your material that your voice has not mastered. Take the trouble areas and go over and over and over them working to get vocal consistency.
Don't overblow your voice as you do this. In fact, try singing or speaking at half volume and see if you have more control. Listen to your gut and to your body. 
This is also the time to work on memorizing your piece. Get the piece ingrained into your very soul.
When you have done this daily work and honored the material, the material will honor you and support you as you perform it. But this cannot happen unless you spend time together and know each other well.
Practice Mentally
Practice the material in your mind.  How you think should be as much a part of your practice routine as the material itself. If your mind is filled with negativity and hatred, either toward the material or toward your voice, it is going to be nearly impossible to give the sort of performance that you are going to feel proud of. Spend time running through your material mentally. See yourself giving a brilliant performance. Take time to renew your mind daily and build up your belief in yourself. The more you build your belief, the more easily the material will roll off your tongue and brain. Believe you can…and you will!
Treat Yo'self
Set a goal for practicing every day for 30 days. Plan to reward yourself for sticking to your practice schedule. Take yourself out for a coffee or a massage. Find ways to celebrate and make it fun as you work to make practicing voice your daily habit! 50% of what we do is habit. You are going to find that your voice will definitely reward you because of the time you've put in. That is a given.
Ready, Set, Grow!
There is no magic bullet or instant remedy for vocal inconsistency. Daily concentrated vocal practice between your weekly voice lessons can ensure that your voice will be there for you when it really counts.
Now, go practice! Here is a little mini video course to get you started!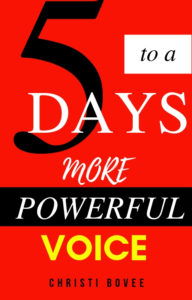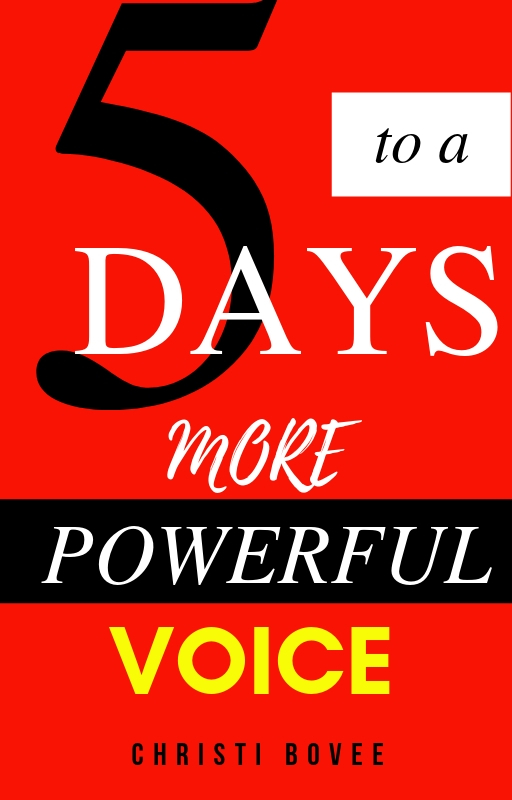 Need voice help? Get my free 5-Days to a More Powerful Voice mini course HERE.