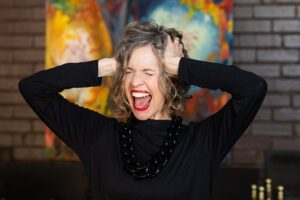 Are you one of the millions of people who would rather die than get up in front of a room full of people to use your voice speaking or singing?  Yet you feel this weird compulsion, a calling even, to use your voice in the world somehow?
Or perhaps you are already a seasoned speaker, singer or actor who has hit a bump in the road with your voice. Maybe it is a career hurdle. Perhaps you've lost your confidence. Or your voice is just not behaving as it should. You just need a little tune-up before your next big performance…
I'm Functional Voice Coach™, Christi Bovee. After working with a myriad of speakers, singers, and actors one-on-one and in group settings for nearly three decades, there is one thing I've found remains the same from young beginner to seasoned pro:
Your voice is very much connected to the state of your heart and your mind.
It is nearly impossible to find your authentic voice when you are struggling to love and accept yourself. In a space where we stand up and let our voice be heard day after day, how you see yourself when you get up in front of others and open your mouth can make or break you.
My passion is to see it make you.
With my method, students find a mix of life coaching, wise counsel and solid vocal technique that leads to an effective, healing, and even life-changing experience. Are you ready to show up as the truest version of yourself today with a voice that is powerful and authentic? Pull up a chair, relax, breathe and let's get you there. At The Voice Love Co., the journey is about YOU. You finally finding YOUR voice, finally making YOUR sound in the world, and finally, FINALLY loving yourself.
And also HERE–> https://bookwithchristiboveevoiceloveco.as.me/
I offer proven solutions that help people put fear in its place. Let's chat and see how my method can help you reach your goals this year.