Post #5 in a series of 5 Things You Need to Quit in 2019.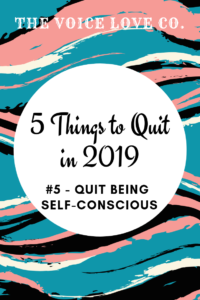 Okay, this relates to all of the other posts, but oh my goodness! This is my heart for you, perhaps more than all the other things to quit this coming year. Heck, it is my heart for me! Let's dig into this one together, shall we? I saved the toughest message for last.
Quit Being Self-Conscious
We talked about the role that other people's opinions and words have on us, but we didn't talk as much about the internal battle that goes on when we care so deeply about other people's opinions that we choose total paralysis by our own self-consciousness.
I'm about to punch a big hole in this whole thing because your self-consciousness is the big, fat lie you are believing you have to live with forever. It is not. In fact, I'm gonna be brutally frank with you on this one: When you are self-conscious, you are actually being selfish.
Ouch. It is a bitter pill to swallow, but it is true.
Self-Consciousness is Selfishness
When you are hyper-focused on your self, it blows your perspective completely out of proportion. A physical manifestation of this is when a person gets abnormally focused on their body being fat. People who are self-conscious about their bodies can often see themselves far heavier than they are, even after losing weight. It is the reason people with anorexia can continue to hurt themselves. They literally see themselves with rolls of fat when they are actually starving. Their view is totally out of proportion to reality.
The same is true for people who are paralyzed by self-consciousness just thinking about using their voice in front of people. Look, I've been doing this for a long time. I assure you, your perspective about your voice is way out of proportion to what is real. I want to shout this from the mountain top because you need a rescue today! It is time to realize that the thing you are believing about your voice is actually all in your own head.
Really take a minute to think about why exactly you are self-conscious for a minute. I'll wait.
What is the thing you are most scared will happen if you open your mouth and let your voice be free? What is the root of your self-consciousness? Look at it honestly. Is it real?
In all my years of working with vocalists, the majority have to admit that the root of their self-consciousness has nothing to do with what flesh-and-blood people have thought of them. Sure it might have contributed. But the majority of what they are battling internally is their own negative opinion of themselves that has taken on an ugly life of its own.
What Are People Thinking of Me?
Truth be told? Nobody is actually thinking about you at all. Sorry.
So, what are they thinking about?
They are thinking about themselves, of course. Just like you are.
My question to you is this:
Are you going to base your life choices on that?
I seriously hope you will reconsider that this year. That is not a good enough reason to keep living in a small story.
When you allow your self-consciousness to be so epic that you cannot function, it is pure selfishness. You are making a choice. It means that you care more about 'what other people think' than what you have to offer to the world.
Other people aren't even thinking about you. So, you are literally robbing the world of your contribution…your voice…for no reason at all.
I pray that that makes you mad enough to change.
Game Plan for Change
So there it is. 5 Things to Quit in 2019. Here are your takeaways to get you moving in the opposite direction:
•Practice. Put the time in to be prepared.
•Find teachers and mentors near and far who bring out your very best.
•Don't quit on yourself, even when it gets hard.
•Do the work inside and out to keep your perspective based on Truth.
•Choose and keep on choosing to stop being a slave to your self-consciousness.
Get yourself in a position spirit, soul and body to take your platform in 2019. Then take another platform. Then another. It is time to bring your beautiful gifting forward in this new year. Me, too! Let's do this together, shall we? The world is waiting!