Got a big performance coming up and you don't know what to do? Here is a vocal work-out plan just for you.
GENTLE DOES IT
I can't stress this enough. You don't want to over use your voice singing or speaking at full power during this preparation time. You run the risk of not having anything left by performance time. Especially as you are building your endurance vocally. Go for relaxation in your body and voice at all times while you do these. You are building strength. Try to sing at half power vocally and reserve full power singing for the stage. Make your focus on these practice sessions more about getting the foundation of breath support and gentle exercise underneath your voice.
BREATHE
Start your vocalizing with some deep breathing, filling your lungs from bottom to about the breast bone, no higher. Expand the rib cage and let the belly drop forward with each breath in. Breathe in through the nose, out through the mouth. Breathe like this 3 to 5 times minimum. More is always better if you can spare the time. Use the time to relax and center your body and mind on what is to come.
HUM
Start to vocalize gently with some light humming, sliding the voice in a hum from bottom gently to the top of your range and back down. Relax and focus your attention on where the resonance (vibration) is in your face as you do this. What are you noticing about your voice today? This exercise will diagnose where your voice is for the day. Allow this exercise to relax you as your breathing gets deeper and you become more aware of the resonance in your face. Hum for a good 3 to 5 minutes.
BUZZ
Gently 'buzz' (lip trill) sliding the voice from the bottom to top of your range and back down. To buzz, breathe in through the nose, relax your face, let the jaw relax and vibrate the lips (like a horse does) while singing on an 'ooh' or 'uh' sound behind the vibration. Do not articulate for words or note changes. Keep it smooth and connected, even if you have to interrupt by taking another breath. This exercise gets you to connect your breathing to your singing voice and gives you great vocal gains quickly. It requires a great deal of air to maintain that vibration in the face. After you have buzzed on a slide.
BUZZ & MUM ROSSINI SCALES
Next, gently buzz through the Rossini scales can find in the Free Resource Library. There is a male version and a female version. Use the one that feels the most comfortable for your voice. If they go too high, take a rest break until it comes back down and then finish out the scales.
Sing through Rossini again on a "Mum", closing down the mouth gently on the ending "mmmm" sound. Try to keep your jaw relaxed and don't allow your back teeth to touch. Stay as open as you can. This puts the focus and energy forward, getting the tension and stress out of the throat.
https://www.youtube.com/watch?v=L_n6daY0_sU
BUZZ THROUGH YOUR SONGS
Throw the words of your song 'away' and buzz through the melody line of your piece. Again, do not articulate for words. Keep all your phrases nice and smooth and connected as you buzz through them. Breathe as needed. You might need extra breaths during this technique. Make every breath count, even if it means you must have your accompanist slow down for you or the track you are singing with leaves you behind. Buzz gently, gently, at half voice if possible UNLESS you find it too tiring for your voice to do so. Save the full voice singing for the stage if you can. 
'MUM' THROUGH YOUR SONGS
Now sing your pieces from the show on a 'Mum' for each syllable instead of the lyrics. Gentle does it, and be sure you are focusing on closing down to sing the "mmm" sound at the end of every mum. Relax your jaw. Open your mouth to breathe if you need it at this point.
MASSAGE & MOVEMENT
If you continue to feel fatigued as you do all of this or are carrying stress about your performance, there might be some tension in your jaw that is holding your voice hostage. Use your fingers to work out any tension in the jaw muscles and see if it helps your larynx relax. Massage the jaw as much as you can throughout the day, both as you are singing or speaking as well as when you are silent. Do this while you are doing your vocal work out plan when notice your jaw is tense.
Then do some movement! As you sing or speak your piece, do large sweeping movements that will help you to Try to get some time to relax using a guided mediation recording, yoga class or YouTube video on relaxation. Work hard at relaxing so you can find some freedom vocally when it is time to go to work on stage.
HYDRATE
Don't forget! Drink half your body weight in ounces of pure water every day. You need the voice to be well hydrated to work optimally during the run of your show.
YOU GOT THIS!
Hope this helps as you prepare for your next big performance! It takes a lot of preparation to be sure that you are ready for something as massive as this. Take it one day at a time, put in the work needed, try to stay calm and relaxed and HAVE FUN! They have you this chance for a reason. You got this! Break a leg!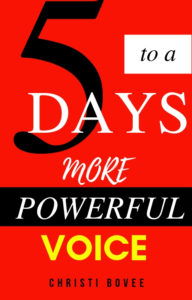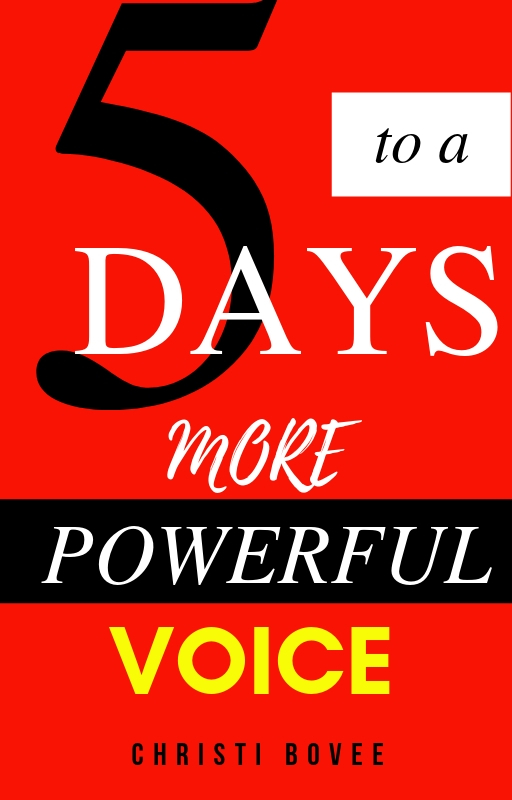 Get my free 5-Days to a More Powerful Voice e-course TODAY. It is 5 videos that come to your inbox, one video per day, to help you connect the power of your mind and heart to the power of your body. Response to this resource has been beautiful. Try it!