Some of the links below are affiliate links, meaning at no additional cost to you, I will earn a commission should you click through and make a purchase. Thank you.

This is the time of year when there are a lot of tears shed in my studio. I hear this almost daily right now:
"Help! I'm feeling so overwhelmed!"
It's not ME making them cry. It is coming into Springtime, people! Springtime ushers in college audition results, midterms, taxes coming due, ACT and SAT testing weighing heavy, and graduation looming on the horizon which means overall major life transitions. Adulting is the next act for many of my clients and students. My clients who have 'adulted' for many years already also feel frazzled and worn out as they juggle their busy lives.
It is the time of year when you sense this shift that feels really weighty. It IS overwhelming!
Take a Time Out
If you found this article because you were searching for how to get help for the feeling of overwhelm, catch your breath for a second and find a quiet place to read this. Actually, physically stop.  Take a deep breath. Let's evaluate some ways that you can help squash that feeling of being overwhelmed and get a little freedom and encouragement into you today.
As vocalists, we can get bogged down by the burden of stewarding our gifting. If you are serious about your craft, you care. That is wonderful! But caring also brings with it the question:
Am I doing enough?
If you are someone who feels a real sense of calling to use your voice for good in the world, the task can often feel enormous. It can feel like time is passing you by and you have so much to do. Preparing for a special performance or making yourself ready for the audition process on top of everything else you are juggling, can feel overwhelming.
The Lifestyle of A Vocalist
Today I want to invite you into what I call the Lifestyle of A Vocalist. You need to make taking care of yourself spirit, soul and body a top priority every single day or you will struggle with overwhelm and may even be tempted to quit. And we don't want that to happen.
Today I'm giving you permission to go back to the basics and take care of yourself, spirit, soul and body and get some relief from the overwhelm.
SLEEP
How is your sleep? We often get overwhelmed because we are underslept. Prioritize your sleep.   Schedule it like you would schedule any other appointment on your calendar. This means saying no to being out late with friends or binge-watching Netflix until 3 am. Do everything in your power to carve out enough time to sleep. When you do lay down to sleep, utilize things like essential oils, turning off all screens an hour before, sticking to an evening routine that helps you wind down, take a hot bath, read a book, and taking a little melatonin or Calm can help you drift off more easily. Sleep is going to help you stave off the feeling that you just can't handle your reality right now. Get adequate time in your schedule to actually sleep.
We often get overwhelmed because we are underslept!
Click To Tweet
HYDRATE
Stay on top of your hydration. People who struggle with anxiety report that dehydration makes their symptoms worse. While it doesn't remove anxiety completely, drinking half your body weight in ounces every day, no exceptions can give you a feeling of well being and the ability that you've got what it takes to conquer your long 'to do' list.
EAT
Forgetting to eat is not something I've ever done. ha! Yet, I hear this from my overwhelmed clients often. Don't forget to eat, Lovely, and when you do eat: Eat clean. Getting some dark, leafy greens and good fats into your body daily can help you feel more grounded. That is because dark, leafy greens give your body magnesium which can really help you feel more at peace in your life. Green smoothies are an easy way to do this! Drink your greens! Here is an easy smoothie recipe to help you.
Into a blender put:
2 cups water
1 scoop protein powder
one tablespoon chia seeds
a single level tablespoon of flax seeds
1/4 cup frozen berries
1 tablespoon fat (either nut butter or MCT oil)
3 to 5 cups of leafy greens (kale, spinach, chard, or a mixture), to your taste. I like my green smoothies REALLY green!
Keep your diet clean and green. You will be amazed at how much better it makes you feel.
EXERCISE
Even if it is just a 10-minute stretching video off of YouTube in the morning or evening is going to help you feel more empowered. But really getting your heart rate up during a 30-minute walk or run can knock the feeling of overwhelm down by half or more, sometimes for hours! Schedule regular exercise into your day, even though you already feel too busy. Watch how it increases your capacity to handle your life!
CAFFEINE
Now I'm going to get up in your business.
How much caffeine are you consuming?
If you are living on multiple energy drinks, sodas and lattes, cut back. Way back. Too much caffeine can make life seem unmanageable to your brain. Wean yourself down little by little to avoid headaches to one caffeinated beverage in the morning only. Drink more water to detox your system as you come off the high level of caffeine. Come down to one caffeinated beverage a day and see if it helps your feeling of overwhelm.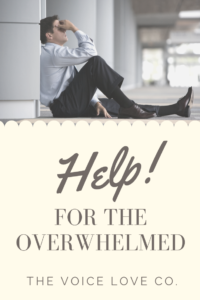 RENEW YOUR SPIRIT
I'm a new convert to adding daily meditation into my life, and I'm a big believer that stopping for 10 minutes first thing in the morning to clear the decks mentally has been a huge boon to my ability to handle more. It has increased my capacity for what is going on in my life. Use an app to help you stay motivated and focused on relaxing your body while gently keeping your mind clear of thoughts. Apps like Headspace and Calm can be helpful to just remind you to let go of thinking about all you've got to do today and just breathe and be. I feel it also assists in my ability to focus during performance preparation and performance itself.
My point? Take time out daily to feed your spirit. Spend time in prayer, Bible study and just time to be silent. Give your brain a break from thinking and, dare I say, obsessing! You'll be stunned at how much MORE efficient you become when you invest this time into renewing your spirit. You'll think more clearly and even be more creative while increasing your threshold for your reality. Try it!
MANAGE YOUR WORKLOAD
Use a planner. Make lists and cross things off. Do a Brain Dump. When you are working on a project that has many moving parts write them all out on a whiteboard or spreadsheet. Having a way to let go of everything you are carrying in your brain can be helpful. If you are managing a crew or team, delegate whatever work you can to someone else who can help you. Break up your studying into bite-sized chunks that you can schedule into your daily calendar. Let go of all off-stage drama and anything else that is not serving you. Look at this as a chance to learn about how you like to do things as far as managing your workload goes. Stay positive, don't freak out and put your brain to work on which management style works best for you.
GET HELP
Book time to talk to someone you trust about the load you are carrying. Get professional help or talk to your pastor or a friend you deeply trust. Get some of this burden off your chest by sharing with someone wise who can build you up.  If you ever need vocal help, get in touch for an online coaching session. I'd be honored to hear from you.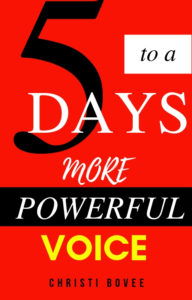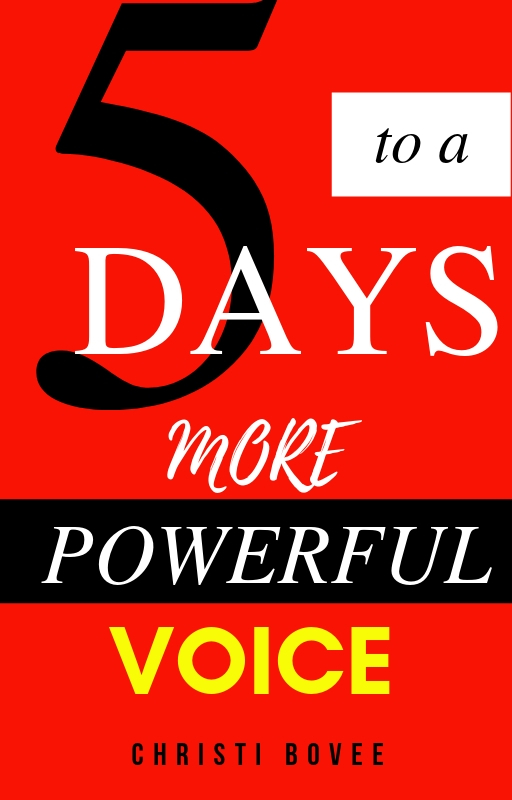 Need voice help? Get my free 5-Days to a More Powerful Voice mini course HERE.
DO SOMETHING FUN
Make time to do something fun. Schedule it like you do everything else in your life right now. Choose an activity that really lights you up and refreshes you so that when you go back to your life a couple of hours later, you feel ready to tackle the next challenge.
EMBRACE THE PROCESS
Going through seasons like this can be a process, but take heart! You are learning and growing in the midst of it! We often cannot control the external circumstances of these challenging days in our lives. The process feels messy, long and soooo uncomfortable. The only way around it is THROUGH it. What you CAN control is how you take care of yourself. Embrace the lifestyle of the vocalist and initiate these daily self-care measures to help you get through it with flying colors!
Get your free Affirmations for Vocalists! It is 10 positive things you can say over yourself to get yourself thinking at a higher level and kick overwhelm to the curb! Details below!