Perhaps you are getting ready to give an oral report at school, or you are preparing to take the stage at TedTalk…
Maybe you are finding the courage to finally get up and sing at karaoke night, or you might be debuting your next album live and in concert…
Whether you are about to say "Hey guys!" on your first YouTube video ever, or you are about to step on stage to play Hamlet…
Your voice needs you to be its best friend and PREPARE it first.
Here are three easy steps you can take TODAY to start to get your voice into amazing shape.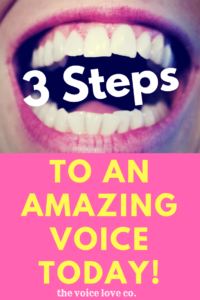 Step 1: Warm Up Your Voice
Yep. You knew I was gonna go there, didn't 'cha? Hey, I'm talking to YOU! You who uses their voice to speak or sing, NOW HEAR THIS! You've got to make time in your life to warm up your voice BEFORE you use it. You need to approach your warm up like it is your job, 'cause NEWSFLASH: It is! It is that important. This means warming up BEFORE karaoke BEFORE you stand up to give the oral report BEFORE you speak or sing a word.  Before.
When you understand that the voice is a muscle just like the other muscles in your body, then it makes sense why it sounds rough when you go to use it full force without properly giving it some warm-up love. When you gently start to warm up the voice, blood flows to the larynx like it does when you stretch your legs before a run. It keeps your tone silky smooth. So try this…
Relax your body, your neck and your jaw and hum gently, low to high, being careful not to force or push. Be careful not to bite down as you get into your upper register. Just relax and hum gently up and down for 3 to 5 minutes. Can you feel how the voice loosens up and gets a little higher and a little lower as each minute passes? That is the blood starting to flow to all of the muscles in the larynx, telling it, "Wake up! Time to get to work!". Humming gently like this might also kick up some phlegm causing a froggy sound. If that happens, DO NOT CLEAR YOUR THROAT. Cough instead. Drink water or warm tea instead. Continue to hum. Throat clearing thrashes your vocal folds and undoes all of that lovely humming you just did to get your voice warm.
Step 2: Warm Up the Voice Even More
Also called lip rolls or lip trills, 'buzzing' is my favorite vocal exercise of all time for anybody who uses their voice, because once you master it, it gets your voice into amazing shape in no time. Buzzing is like the sound a horse makes when he blows air through his lips, only we will be doing that while making an 'ooh' or 'uh' sound behind it. Try it!
Keeping your shoulders and neck relaxed, take a deep breath filling your lungs from your low belly to about the breast bone, no higher. Keep your lips and face loose as you release the air with your lips in a 'buzz' in one long, connected tone. Buzz from low to high and back down. Breathe deep and low again and buzz. Try to keep the release of the lip roll even by keeping the airflow consistent. This is challenging when you first start, but I beg you to not give up. If your nose itches or tickles like crazy, rest one finger down the bridge of the nose to keep it stationary while you buzz away. Once you master that, try varying the pitch like you did while humming, buzzing gently from low to high and back down.
Listen here for an example:
Why is buzzing important? It takes a lot of air to maintain that vibration in the face. Buzzing brings the breath support up to a place where it meets your voice and when you go back to speaking or singing normally, you have a clear, connected sound that makes you feel much more confident, thereby making you perform much better. Try buzzing through your song or speech. Do not articulate for the different syllables in the words. Keep the phrases long and smooth. Once you go back to speaking or singing normally,  you will be amazed at how much better you sound.
Step 3: Drink More Water
This one might surprise you, but your voice desperately needs you to be giving it moisture by drinking half your body weight in ounces of pure water every. single. day. Got that? Take your actual body weight and divide it in half. That number is the number of ounces you need to be swallowing in water every 24 hours. Yes, I am serious.
Yes, you will pee. A lot. And yes, you will soon realize that your pee actually should be pale yellow to almost clear in color every, single, day instead of dark and stinky. And by drinking ENOUGH water, you will reap the rewards of a voice that is juicy because your whole body is juicy. Your voice will be more fluid (no pun intended) and you will have more range of motion with your volume and tone quality. As a vocal coach, I can hear it when speakers, singers, and yes, even YouTubers have dry vocal folds. Drink up and enjoy the amazing benefits!
This is just the beginning on what you can do to improve the strength, endurance, and sound of your voice. Let me hear from you if I can help you with your voice today. Did these tips help you? Leave a comment below. Or start a conversation! Let the Voice Love community know what you are doing to find your best voice.