Disclosure: Some of the links below are affiliate links, meaning, at no additional cost to you, I will earn a tiny commission if you click through and make a purchase.
I recently met a business owner who trains people to be insurance adjusters. He speaks for a minimum of 8 hours a day, but when I asked him what sort of warm-ups he did, he shrugged.
"I just drink a lot of water all day," he told me.
When I asked him how that is working for him, he said.
"My voice is still pretty thrashed at the end of each day. I go back to the hotel room and hope that a good night's sleep will do the trick before I start all over the next day."
Drinking water is excellent, and I'm never going to say otherwise. Getting a good night's sleep can be helpful as well. However, those only meet a small part of what your voice really needs.
Speakers, Warm Up! Please?
Some of my toughest clients are my public speakers. They are delightful humans, of course, and I love working with them. They are just some of the most difficult to convince that they need to warm up their voices before they get up to speak. I often hear protests of: "Why would I do singing warm-ups? I'm not a singer!" "I don't have time!" or "It doesn't even enter my mind that this is a thing! I just get up and go."
I cannot stress it enough: Speakers, you need to do vocal warm-ups. In fact, if you want to preserve your instrument for the long haul, you must do them! Be sure to check out the freebie audio mp3 Warm-Ups for Speakers below!
Why Warm Up My Voice?
Endurance
Like the muscles you would use in your body to run a marathon, the muscles in and around the larynx would appreciate some gentle stretching prior to being put through your speaking marathon. If your speaking style is shouty or gravelly, it is even more important to warm up…gently. To just go up on the platform with your voice 'cold' and start to yell is going to cause your voice to get tired quickly. It can cause straining of the muscles in the larynx. As with any muscle strain, you get swelling. Straining like that causes fluid to rush to the site to try and cushion the blow. 
All of that extra fluid keeps your vocal folds from closing correctly. This is why you develop a raspy sound and may even find you lose your ability to make a sound at all. The swelling from using your voice incorrectly over and over can permanently change the tone quality of your voice. I won't delve into all the reasons for this today, but let me assure you, you don't want that to happen. Consistent warm-ups done regularly, even and most especially on days you are not speaking, will strengthen your voice and give it the endurance it needs to finish your presentation well when you are speaking.
Longevity
What if you want to make speaking your career? Could you, with the way you use your voice today, see yourself doing multiple week-long conferences each month twenty years from now? 
I happened to watch two documentaries by two different motivational speakers in the span of one week. I was delighted to find that they both do warm-ups prior to speaking!
Yes, I am a geek about this stuff. Thanks for noticing.
I have followed the work of Tony Robbins for many years, first checking out his cassette tapes from the library as a college student. Being tuned into voices, it has made me sad to hear how much his voice has degraded over the decades. Yet, I'm not surprised. He uses an incredible amount of force when he speaks and yells down in the 'vocal fry' area. Tony does everything he can to remain at what he calls peak state in his body, his mind and his spirit. He employs experts in science and medicine and more to keep himself in top condition. This guy takes excellent care of himself.
You guys, in this documentary Tony Robbins was shown doing singing exercises! That's right: Tony Robbins sings!
He admits in the film 'I Am Not Your Guru', that he often speaks 11 hours a day during his 6-day conferences. Whoa. Nevertheless, he actually does vocal warm-ups in addition to a lot of other preparation of his mind and body daily which are preserving the voice he's got left. 
The other speaker I saw warming up their voice by singing is Rachel Hollis in the documentary 'Made for More'. Rachel is a New York Times bestselling author of the book, Girl, Wash Your Face. She is at the beginning of her public speaking career. It was so encouraging to me as a voice coach to see her actively using warm-ups in the car as her husband drove her to speak at their 3-day Rise conference in L.A. Below is free audio mp3 resource Warm-Ups for Speakers, so YOU can warm up in your car, too, just like Rach!
Tony Robbins and Rachel Hollis Warm Up
Guys, my point is that these are both speakers who make serious bank using their voices. Success leaves clues. If it is good enough for Tony and Rachel, then to be successful you need to do it, too.  You want a voice that lasts for years, so make warming up an activity you see as a money maker. Changing how you look at the time you spend on your voice every day will give it value. Warming up will preserve your voice so you can continue to speak, not just today, but for years and years and years to come. 
Confidence
Warming up is only going to help your presentation. 
"Preparation time is never wasted time," so the saying goes, and it is true with your voice.
Putting in the hours to strengthen your voice will repay you multiple times over in being able to relax when it is time to get on stage. It will give you one less thing to worry about.
Not having to worry about your voice will make you feel more prepared so your brain can relax into delivering your excellent content. Especially if you may be feeling nervous that your voice won't last the first keynote speech, much less the entire length of the conference. This translates into greater confidence in your ability.
Doing the voice work ahead of time will also help you connect to your body, which will only translate to a more engaging performance for your audience. Speakers who are more in tune with their bodies and the space around them are more fully present and able to hold an audience's attention.
So, there you have it. Warming up is where it's at! Start making it part of your daily routine, speakers. You won't regret it!
Get My Free Warm-Ups For Speakers Audio Download Now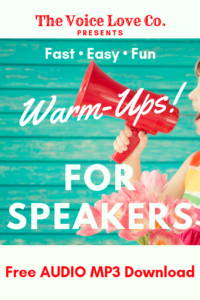 Put these proven vocal warm-ups on your phone. Then do them. Daily. Your voice will repay you by being ready at a moment's notice for any speaking gig that comes up. You got this! 
Would you like to see any other free resources offered here at The Voice Love Co? Leave a comment below to let me know!