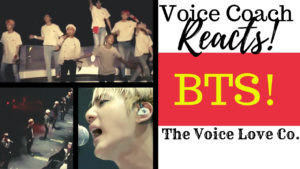 This week's question comes from viewer Christian Holt who asks:
With BTS as a backdrop, we deconstruct singing high notes as a male voice and note the ease with which BTS produces their sound. Learn how to sing with effortless precision up in the falsetto range in this week's video. Thanks for watching!
Do you have a question about your voice? Leave a comment below. Comments are always kept private until I approve them, so if you do not want your question to be public, simply say so when you comment. Thanks!
Want more Voice Love in your life? I write a love letter to my subscribers every Monday. It is hope and encouragement for singers and non-singers alike. LEARN HOW TO SING VIA MY WEEKLY NEWSLETTER!