It is that time of year! College audition time! I've had the privilege of helping students get into some of the top theatre colleges in the country. I can help you learn how to audition for college theatre programs, too.
This is a competitive study area and preparation can be quite involved. If you are reading this long before you are due to start auditioning, WONDERFUL! Start TODAY to get ready! It is never too early to begin preparing for auditions if you know you'd like to study theatre at the college level!
Here is my EPIC list of tips for how to audition for a college theatre program. Grab a beverage, get comfy and breathe. There is a lot to do, but we will take it one step at a time!
Tip 1: Know what your college requires.
Go online to your university's website and find the page with the audition requirements. They will tell you exactly what they are expecting as far as music choices and monologue. You need to know how much time you have to present your audition, whether you are auditioning by video or in person. Is there a pre-screen audition? Know exactly what era of musical theatre they are requiring, if there is such a thing. Sometimes colleges want to see you sing a piece from a musical that is pre-1960 and as well as allowing a more current selection. Do you need a Shakespeare piece for one of your monologues?
If you are trying out for more than one school with different requirements, you need to be ready with ALL of those different requirements. Know them exactly!
Tip 2: Get organized.
If you are trying out for more than one college or university, this is the point in the process right at the beginning to put all of the information you are gathering from each institution into a spreadsheet, whiteboard, planner or some other digital means of organizing. There is actually an app for this very process! Use what works best for you.
Having all the details and dates in one place will help you remember all the moving parts from the application to the follow up thank you note and every important date and detail in between. You need a place to list and check off all of the 'To Do's' that are involved in this process.
Also, don't forget to BOOK YOUR TRAVEL for your audition weekend now, if possible. Hotels can get booked up on audition weekends. You don't want to have to stay far away or even miss out on accommodations in smaller towns. If your audition is coming up in the near future, go ahead and book today!
Tip 3: APPLY!
This sounds like such a silly thing to say, but I've seen students forget to do this!
You are going to have to apply for the colleges in question AND whatever theatre programs you are interested in. Complete all the applications and essays required. Some schools require an essay on a topic of their choosing to be submitted in addition to the application process.
Diversify! If you really want to go to a particular college, apply and plan to audition for more than one program. Go for both the Acting and Musical Theatre programs to give you better chances that you will get in.
If you qualify for free or reduced lunch at your high school, you can often get college application fees waived. That's free money that your high school won't always tell you about! Be sure to ask your school counselor for more information and help you get the fee waiver set up!
Letters of Recommendation
Application time is also the time to line up the people (teachers, directors, voice coaches, dance teachers, etc.) who will be writing you your letters of recommendation. The audition requirement list for your university will specify how those are to be sent in. Some private teachers charge a fee to write letters of recommendation. If you feel they are going to write you a glowing letter, pay it! For those people who don't charge a fee, be sure to follow up with a 'thank you' of some kind for their time.
Tip 4: Choose your Songs and Monologues carefully.
Monologues
You want to be sure you are choosing age-appropriate material that will show you off in the best light as an actor and singer. Monologues that have a lot of profanity or are from a rough character like a prostitute who will not put you in the best light. Those should be avoided. Save your Lady Macbeth and Blanch DuBois monologues for after you get into the program. This is not the time to shock your audience with edgy material. You want to show them what you can do. You don't want them to be distracted by how uncomfortable they feel. To find material, read plays. Find work by playwrights who write great material for actors. Get my free Guide to Your Collge Monologue TODAY for more great information and a list of material you can start working on NOW.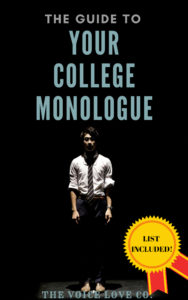 GET YOUR FREE LIST OF GREAT MONOLOGUES HERE!
Music
As far as songs go, I'm a big believer in finding songs that are not overdone. This would be a great opportunity to spend a little money and hire a voice coach who specializes in helping students with college theatre auditions. They can find songs that are perfect for your voice and that the faculty you are auditioning for will not have already heard a thousand times. Sing pieces that show off what you can do and that set you apart. Pieces that are fresh to the ears of a faculty who have been sitting and listening for days to hundreds of people can give you an advantage by making your audition enjoyable and memorable.
Tip 5: Read the Plays and Musicals your cuts are from.
You might be asked WHY you chose the material you did. You need to know the play, know the musical and know who you are playing. Have a grasp of what are they doing and what is the context of this speech or song. Be ready to tell the judging panel in your own words what your character is saying or singing about at that moment in the story. If you take the monologue out of context, be sure you can also do it in context.

Tip 6: Be Overly Prepared.
It goes without saying but the material you audition with must be MEMORIZED. Not only that, but you should have double the number of monologues and songs cut and ready to go should you be asked. So, if they ask for two monologues, you want to have four ready. Boom.
If they ask for 16 bars of two contrasting songs, you need four. Boom. Ready to go. Again, if you are auditioning for multiple programs with different audition requirements you will already have this done.
You MUST know the entire song! People, promise me you will learn the whole song…mmmmkay?
Prep Your Book
Have your book totally ready to sit down in front of the accompanist. This means you need to have your music in a binder. Do not bring a songbook from the musical that you bought off of Amazon. Your accompanist will hate you because those do not stay open on the piano. You want to keep your accompanist happy, happy, happy!
Take the book to a copy store and make clear copies of the pages from the song you are doing from the book that you own. Make sure all of the notes appear on the music before you leave the store! Mark the pieces clearly (or have someone do it for you) with where the cuts are, and where to start and stop. Put your music in plastic page protectors for easy page turning and use dividers to help the accompanist flip to the next piece.
Have extra resumes and headshots tucked into your binder to hand out should the need arise.
Tip 7: Rehearse for your Audition.
Hire a few accompanists during the rehearsal process to sit your music in front of and sing with. Get comfortable communicating the tempo and cuts to them. They will help you get your music set up in your binder as well.
Change the location and do your audition in as many places as you can…your church, the choir room at school, the living room of your neighbor.
Practice doing the audition in different ways and be prepared to take direction. Don't be so set in one way of doing it that you can't shift should the faculty ask you to act or sing your material in a different way. Be ready for all contingencies and be flexible!
Tip 8: Video your Audition
Whether you cannot travel to the college to audition, they require you send in a video audition only or you get to your audition day and you fall ill, you will want a high quality, great performance of your audition on video regardless. Some colleges now require something called a Pre-Screen. This is a video audition that you turn in prior to them allowing you to come and audition in person. Focus on high-quality lighting and audio and be sure the background highlights YOU by being as neutral as possible. You want to stand out in your video, not have the background distract.
Sing your piece(s) with an accompanist but be sure to check that the piano does not drown out your voice. Keep the number of takes you shoot down to three only. Any more than that and you are going to start to get tired and your performance won't be good anyway. Don't overthink it or get bogged down by perfectionism. Try to do the audition like you would if you were walking into a room cold.
Do your slate at the beginning to the camera, and your monologues and musical pieces looking slightly left or right of the camera as you would if you were auditioning in person. Some colleges make it very clear as to how they want the video shot: full body, waist up, shoulders up, etc. Be sure to follow their requests exactly, getting your shots framed correctly. If they don't specify, give them all three options.
A HUGE No-No: DON'T record your video in your car. Ever.
Tip 9: What to Wear
The audition requirements should help you to know what to wear on audition day. There may be a dance component to your audition. Be prepared. Otherwise, dress in something that is age appropriate and professional. Clothes that are too tight, too short or too revealing are not good choices. Wear shoes that you are comfortable performing in, and I do recommend to ladies that you wear a bit of a heel. Nothing too high, mind you. It makes your legs look longer and helps you stand taller, plus it is closer to how you will look in character shoes. Hair and make up should be professional and polished looking. Guys, you should be well groomed. Show up looking like a million bucks. Looks matter in this business, people. It will make you feel more confident and put the faculty at ease that you are a serious theatre student with potential.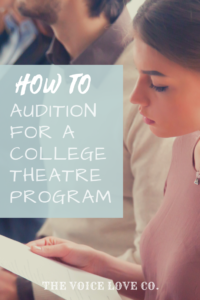 Tip 10: What to Eat

 
Chances are you might feel a bit nervous on audition day. Be sure to eat something to keep your blood sugar stable, but keep the amount you eat light. Eat clean. Fruits, veggies, lean meats. Avoid sugar and dairy if you can, to keep the phlegm at bay.  Stay hydrated! Make sure that you time your water consumption well so you aren't running to the bathroom right as they call you into the audition room. Celebrate after your audition with a nice hearty meal. You will have earned it!
Tip 11: BE NICE!
Your audition begins the moment you hit the door of the institution. There will be Acting majors and Musical Theatre majors helping you get signed in and showing you where the practice rooms are to warm up. Look them in the eye. Laugh with them at the funny things they say. They are trying to break the tension and help you be comfortable. They were once exactly where you are. Be personable and warm when you talk with them. You never know if a director might ask those students later what you were like in the waiting room.
It is not just the judging panel whose opinion matters. As an actor, you need to be nice because no matter how talented you are if you are a jerk, there are a 1000 people waiting behind you to take your place. Nice actors work. Period. Start your career of being nice now!
Tip 12: BE CONFIDENT and BE YOURSELF.
Walk into that room like you know exactly who you are and why they should allow you into their program. Follow directions. You will be told prior to entering the room exactly where to stand. Place your music in front of the accompanist and communicate just like you rehearsed the tempos and cuts. Go to your mark and do not waste one second of audition time with nervous chatter or apologies. Make eye contact with the faculty during your slate and then make a smooth transition into performing your pieces.
Slate
Your slate is the only time the judging panel really get to see your personality. This is important because it gives them a taste of who you are to work with as an actor. Say hello, state your name, and the character from the monologues you are doing and the plays that they come from as well as the song titles and musicals. Look down, look up seeing the person you are talking to in your monologue or song and begin your audition. When you are done going through your material, take a moment, say "Thank you" and be ready to leave.
Converse
They may talk to you, they may not. Answer their questions if they ask you one as honestly as you can. If you don't the answer, just say, "I'm sorry, but I don't know." They want to see that you are not a wallflower, so have fun! Flash your beautiful smile and show them your personality. You are intelligent and capable of carrying on a conversation with a director. Be genuine.
SELL & SHINE
Be yourself! In such a competitive area of study, YOU are your biggest selling point. Take this chance to SHINE! If they stop you before you've completed your songs or monologue, don't panic or lose your cool. It doesn't mean they don't like you. It means they've heard enough. The judging panel is rooting for you, believe me. They are looking for the best of the best to be in their program. They want you to do great!
Tip 13: THANK YOU 
Be sure to thank the judging panel before you depart the room and look the accompanist in the eye and thank them! Some of these panels will see 1200 students or more in an audition season. Don't be one of the majority who run out of the room blindly, just glad that it is over. Look people in the eye and thank them.
Additionally, WRITE A THANK YOU NOTE. Have your thank you note already in process with the address and the stamp on the envelope as you prepare way back in the Get Organized step. Handwrite a personal message to the highest ranking person in your judging panel (the theater majors can help you know who that is before you depart). Drop it in the mailbox before you leave town and you're good to go.
BONUS TIP: Ask Questions When You are On Campus!
Use the audition process as a way to get a feel for where you want to attend school. If there is a play o r musical going on while you are on campus to audition, buy tickets and go! Colleges and Universities are a business and they want you as a client.
Some questions to ask:
•What the school does as far as helping you find job opportunities after graduation?
•What kinds of shows you have the opportunity to try out for?
•Are there opportunities to do shows that are outside of their Main Stage offerings such as student-directed productions?
•How many of their alumni are currently working in the area you are most interested in?
This is a major commitment on multiple levels, both in finances and in your time. Don't be afraid to ask questions to be sure you are making the best choice based on where you feel most excited about the potential to learn and grow in your craft. 
Follow these steps to a great audition! Remember that I'm here if you need anymore help! You can contact me directly at voiceloveco@gmail.com Break A Leg!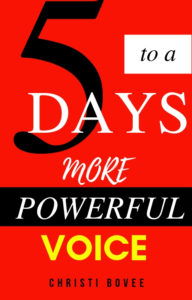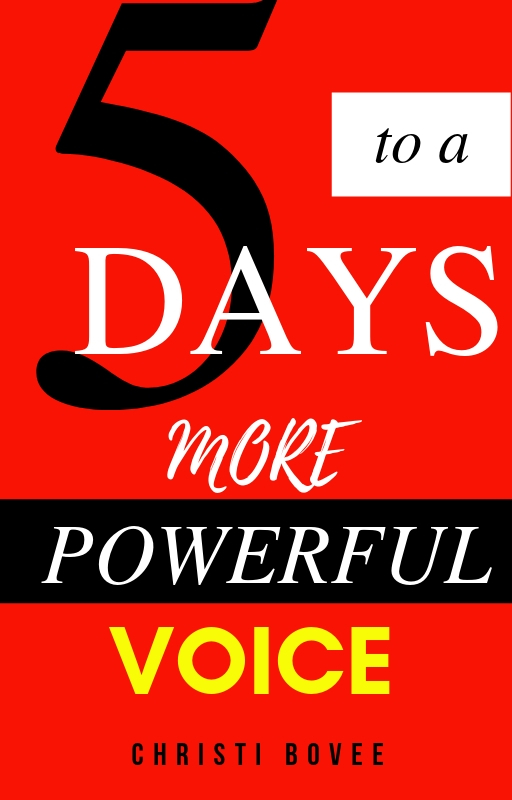 Need voice help? Get my free 5-Days to a More Powerful Voice mini course HERE.