Speakers and actors fight me on this point. (Okay, maybe more public speakers than actors do.) You've got to warm up! When you do not warm up your voice properly BEFORE you speak, your voice can show signs of fatigue very quickly. Take the precaution ahead of time and invest 20 minutes into warming up your voice and body before you take the stage. Your voice will last longer and your confidence will soar as you feel and hear it getting stronger because of consistent warm up.
Here is a simple 20-minute Warm-Up Video for Actors that will help anyone who uses their voice. From teachers, lawyers, advocates, public speakers, and of course, actors!
Watch HERE: https://www.youtube.com/watch?v=tW08injjI1M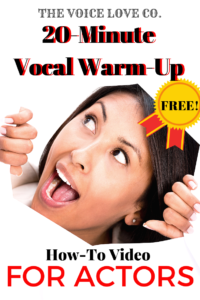 Get your printable of this content from The Voice Love Co. It lists ALL of the warm-ups in this video and more tips and tricks to help your speaking voice SHINE!