Voice Coach Reacts to Sia
It is time for a Voice Coach Reacts to Sia's "Best Live Vocals"! YAY! I chose to react to this video thanks to one of my viewers, Kartik Sharma. Kartik watched my BTS video and asked about breaks when transitioning vocally.
A Great Question
Kartik writes,
"Are they bad for all singers or only some? Because Sia also has breaks and voice cracks, but to me they seem intentional and good."
This got me motivated to do a reaction video that has been a popular request: Sia's Best Live Vocals. However, I realized rather quickly once I started recording, that I had never really watched Sia sing live before. With her back turned to the audience or long wigs covering her face, I realized quickly that I had never noticed her technique…or lack thereof. Oh boy.
How NOT to Sing Like Sia
Guys, I really want to be as positive a coach as possible, whether I work with clients in person, online or via ScaleAbout (coming soon! I'm so excited that I finally qualify thanks to gaining 5000 subscribers on YouTube this week). Yet, once I saw how Sia creates her sound, it became clear quickly that I needed to do damage control on this reaction video.
You see, Sia sings with a tremendous amount of jaw tension and laryngeal tension that could be problematic for somebody trying to emulate her. She shows on this video exactly what NOT to do as far as phonation goes. I want to make it clear: I am not worried about Sia. I am worried about YOU trying to sing like Sia.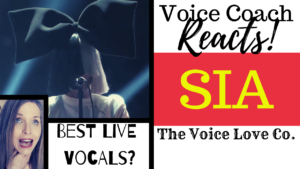 Jaw Tension
When you clamp down on your jaw, it creates tension all the way down into your larynx. Your vocal folds are not free to vibrate like they should and it can create vocal strain. You can hear Sia straining through clenched teeth. I literally felt physical pain watching her do this.
Now listen. Sia is awesome. I love her music and I love her voice. It is just the way she thrashes her voice that as a voice coach I can't support. She obviously has managed to keep her voice going strong for years and years, so more power to her. My concern is YOU, or your kid sister, or some precious lady down at the Blue Moose trying to karaoke it up like Sia. Please, for the love of your voice, don't try to sing like Sia! You can get as much power in a belting range as she does without all of that tension, dear ones. I promise you can.
Vocal Transitions Guide
As far as Kartik's question about breaks and cracks the answer is YES. Sia does use breaks and voice cracks to her advantage. It adds a great deal to her style and unique artistry. She is like none other, which is such a breath of fresh air. YOU too can use breaks and voice cracks as a 'color' or style choice as instead of singing smoothly through your register transition from chest to head/falsetto (like what I was addressing in the BTS video).
KEEP IN MIND: If you are wanting a more clear break, it is going to be important that you vocalize in a more defined way to keep that clear delineation. Buzzing or sliding the voice through vocalise exercises will make for a more connected sound. Vocal exercises that SLIDE through the registers are like sandpaper for the voice making it nice and smooth. You will want to avoid those. Instead, flip the voice from one register to another to keep the break more defined. You can flip your voice while singing an octave from low to high with an "Ah-EEE" vowel sound will keep the break more defined. (This exercise sounds like a donkey.) I used the term 'yodel' in this video to describe a clearly defined vocal break.
MASSAGE THE JAW
Massage that jaw to keep it nice and open (I wish I had talked more about that in this video as well, darn it.) You need to really make massage part of your daily self-care if you struggle with jaw tension. If you suffer with extreme jaw tension, find a massage therapist who can work on your jaw from inside your mouth. They put on latex gloves and work the muscles, both from the outside on the face, as well as inside the mouth. It is not comfy to have this done (experience talking here), BUT it helps so much! You will be able to drop your jaw more effortlessly for a more free sound. Open your mouth and 'sang, y'all. Your precious vocal folds will thank you.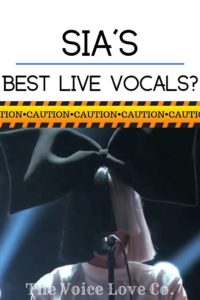 In closing, I admit that this video is not one of my better offerings overall. I think it about every video I make, but this one was rushed to production without proper time to really dig in and fix its inconsistencies. I could have said things better or differently or more concisely. In short, it is far from perfect.
However, my goal right now with The Voice Love Co. is to get stuff done. Yes, I am going for quality, but MAINLY I'm going for the imperfectly perfect and DONE on a consistent basis. In order to show up for you every week on YouTube I force myself to stand by this imperfect offering by reciting my manifesto which I include in the description box of EVERY video I produce. It says:
I am allowed to be BOTH a work in progress AND to help others grow at the same time. I refuse to wait until I believe I'm perfect or someone else has deemed me worthy of impacting others. I am unapologetically accepting a life of massive growth and improvement.
Keep putting forth YOUR imperfectly perfect offerings in life. Take care of yourself and your voice. Until next time…
Work with me! Send me a DM on my Instagram or comment down below (all comments are held until approved) and let's get rolling this summer. Whether it is one session or many, I'd love to work with you. Blessings and thanks for reading!