I admit it. I'm very late to the Marcelito Pomoy party. Finally, I'm doing a Voice Coach Reacts video to Marcelito Pomoy's rendition of "The Prayer". It has been one of the top most requested videos by my audience. His first single was done in 2011. That is ridiculously long ago for me to just be hearing about him, I realize. So here I am finally, and boy am I glad.
Voice Coach Reacts to Marcelito Pomoy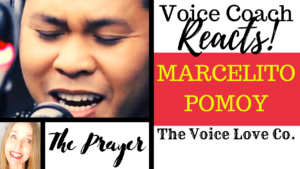 Marcelito Pomoy is a Filipino vocalist. He spent his early years on the streets after being abandoned by his parents, both biological and adopted. Marcelito did odd jobs to make a living on the streets. He started singing while working on a chicken farm. It was there he discovered he could sing both the male and the female solos of songs. As he grew older he ended up entering competitions, making the cut of Pilipinas Got Talent.
Vocal Ease Through the Registers
The striking thing to me watching Marcelito sing is the tremendous ease with which he navigates his voice. I mean, to jump back and forth in the heavy duet part of The Prayer and not skip a beat vocally, nor lose any of the inherent vocal quality of either part is nothing short of miraculous. It was such a miracle to witness, in fact, I wondered as I watched the video for the first time if he was actually going to be able somehow to sing BOTH parts simultaneously!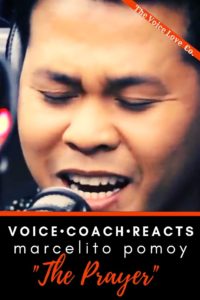 Discovering Marcelito Pomoy
My dear audience on YouTube is often aghast that I do not know of these singers that I am discovering. I'm realizing that the phrase "it's a small world" does NOT apply to the American music industry. I've said this before, but I will say it again: They have done us no favors to keep us sheltered from the international music scene. In fact, my listening habits will never be the same after starting this Voice Coach Reacts series. Having just returned from two weeks in Europe, I am realizing myself just how much I love world travel and experiencing other cultures. Who knew you could travel extensively with your Spotify playlist? I'm smitten.
I am also completely smitten by the Filipino vocalists I am discovering. They are all just amazing, consistent, technically correct yet untrained vocalists who make hard things–heck, impossible things!–look easy. Having traveled to Manila myself and seen the poverty and conditions many Filipino children found themselves in, I can imagine Marcelito's life as a street kid very easily. In fact, he would have been a kid on the streets back when I was there.
Against All Odds
To see where Marcelito has come from, what he has accomplished with persistence and will in the face of tremendous odds, really warms my heart. I am so grateful to have had the chance to 'discover' Marcelito for myself. He is a gem and I wish him many more happy days of music making.
Got a question about your voice? Leave a comment down below OR work with me via ScaleAbout.com!