Post #2 in a series of 5 Things You Need to Quit in 2019.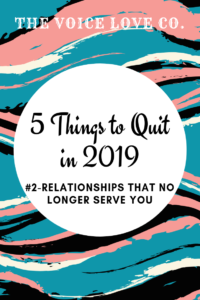 Now that you are dreaming big dreams…
Quit Relationships That No Longer Serve You
Today I give you permission to quit the relationships which are no longer serving you. 
"I thought this was a blog about the voice, not relationship stuff. I'm out."
Your voice is an extremely personal instrument to 'play'. Therefore, your everyday life definitely affects your voice's ability to perform at its highest capacity. You are a living, breathing instrument who is moving through life. To gain vocal freedom, it is crucial to look at all areas of life to see where you can gain greater life freedom. This includes your relationships with people, and more importantly, it includes your relationships with the opinions of people.
How Are People Showing Up for You?
If you have people who cut you down, tell you sound terrible, or regularly mock you for the steps you are taking to find your voice–even if they are related to you–those are relationships which are no longer serving you. Moreover, pay attention to the folks who are much more subtle in leveling their bad vibes in your direction. They smile to your face but are condescending in their actions. Or they constantly come to your rescue, keeping you stuck. Maybe they spout false compliments that conceal an ugly jab intended to wound. Perhaps they coddle you when you should really be working harder?
It is time to get honest with yourself about the people in your life. You might not be able to remove them from your day-to-day interaction, but you do have the power to choose how they influence you moving forward this year. Do you really want to see a change in your ability to use your voice as a powerful influencer in 2019? Get to work! Work to separate yourself emotionally from those relationships which no longer serve you. Detach yourself from the outcomes that their disappointment and negative opinions wield at you as you endeavor to grow and change. You have the power to crush how the opinion of other's affects you. Truth be told, in order to make this next year different, you MUST crush how the opinion of other's affects you.
Popular Opinion
If you are giving weight to the opinions of others, be they good opinions or bad, you gotta stop. 2019 is your year to quit caring what other's think of you, good or bad! That will be the measure of true FREEDOM and you will grow like crazy.
Your new mantra for 2019:
"Other people's opinions of me are none of my business."
Whether people are singing your praises or running you into the ground, your goal should be that their opinion of you NEVER causes you to shift one inch either way from who you know you are and what you know you are supposed to be doing. It is hard enough to do big things in the world while coming up against your own internal limiting beliefs or inflated ego. Having people in real time reinforcing either of those out loud makes it darn near impossible. Can you imagine living a life where what other people think of you, good or bad, doesn't knock you for a loop? It is time for MORE of that in 2019, please.
Get Clear
•Know where you are going. Be a person of influence, NOT one who is being influenced by every opinion and roadblock. Know who you are, what you are called to and where you are going. Use your three-year plan in the last post to help you see clearly what needs to be deleted in your life to get you there.
•Wake up to what is really going on in your life and in your relationships today. Be honest with the part YOU play in these scenarios and why you must change this year. Having a strong 'why' will help you stay focused. Get your mind working on helping you figure out your triggers and how to break free from caring what other's think.
•Stop giving weight to other's opinions, good or bad. What do YOU need to be about this year? Do everything you can to reprogram your mind and your heart towards positive change towards that. Quit all activities that keep you numb, even it means you have to deal with uncomfortable feelings. Get a counselor. Start running. Change the media you consume to content that keeps you awake, inspired and moving forward.
•Keep your head down and work on yourself. Then, work on yourself some more. You are the only person you can change.
The World is Waiting
The world is waiting for your powerful voice and influence to enter the arena! 2019 is your year to put your blinders on and do everything it takes to get there. Mediocre people will always try to take someone reaching for exceptional and pull them back down to their level. Do everything you can to stop that cycle now. Don't allow mediocrity in your relationships with others. But more importantly, stop allowing mediocrity in your relationship with yourself. Keep doing the work! I'm super proud of you!