Post #1 in a series of 5 Things You Need to Quit in 2019.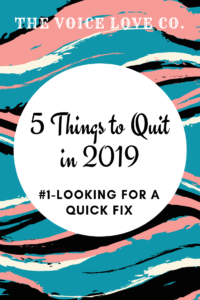 Quit Looking for A Quick Fix
Every now and then, I will have a client who makes it clear that they ONLY want to work on their songs or speeches or audition prep, thank you very much. Once they do their thing and I immediately launch in suggesting areas where better technique will help them, they state that they want me to offer a quick fix here and there so they can get on with it. They will not 'waste their time' working on their breathing or vocalizing, and will never see the value of something as silly as working on their mindset. Pff! As if!
It is not uncommon for these folks to check out a coaching session with me, realize that I am going to encourage them to actually spend time crafting their voice, turn around, and never come back. Over the years, I have been able to observe a few of these former clients from a distance and the results are clear: they never really progress. 
"It doesn't stick if it's 'just a fix'." ~Brendon Burchard
What are your goals for your voice? Is it to conquer that involuntary swallow that surprises you whenever you are nervous? Are you working on smoothing out the end of your phrases on that one song that is your "Everest"? Are you determined to finally "hit the back of the house" with your speaking voice? Those are all good things, but I'd like to suggest something way meatier. 
Stop going for the quick fix vocally. Sure, address the weaknesses in your voice, please do! But this year, may I suggest you give yourself the gift of getting a much bigger picture? Stop looking at where your voice should be one month from now in order to get you through your first speaking gig.
Start dreaming. Big. BIGGER!
Go bigger
WAY bigger. Where could you be with your voice in THREE YEARS? You heard me right. For those of you who are quick fix thinkers, this could sound like an eternity. But, when you look at a short timeline of a month, six months or even a year from now, you limit your future based on your current circumstances or capabilities. You can't begin to look past them to something amazing. Your view is too shallow. If your quick fix goal for your voice is tied to your current skill level vocally, then you are not actually setting goals, you are merely making a short term 'To Do' list.
The reason why New Year's resolutions never work is that they are just a quick fix. Quick fixes are never as compelling as big dreams. You know it is true because it's happened to you over and over. You lose motivation just focusing on fixing your current weaknesses in your voice. It is why you never stick with anything for very long. And ultimately, you just don't end up where you are REALLY wanting to go.
Dream Big
What is your dream? Do you want to make an impact in other people's lives using your voice? Are you wanting to start your own successful vlog? Audition for a prestigious acting school? Become a highly paid motivational speaker advocating for a cause that sets your heart on fire? Try out for 'The Voice'?
Then, you are going to have to THINK BIG and DREAM BIG. Decide where you want to be in three years. Then work backward from that and list out the skills you will need to develop in order to get yourself there.
If you were living your dream life three years from now, making a difference by making your sound in the world, the sound that only YOU can bring, what will you have to be able to do then, confidently and in a world-class way, that you cannot do now?
Here are some questions to help:
•Who are the mentors you will need?
•What courses do you need to take?
•How much time do you need to spend daily in physical preparation?
•What do you need to fill your mind with to shift your thinking so you live at a higher level in three years than you live now?
•How can you build your capability deliberately over these next three years?
•What daily habits do you need that will keep you feeling good and help you stay where you need to be mentally, emotionally, and physically?
Shift Your Mindset
"But," I can hear the quick fix people out there whining, "three years is so LONG!"
Think back to where you were on this day three years ago. Can you believe how quickly three years has passed? Did you have the same dreams then that you have today yet nothing has happened? So, what do you have to lose? Try it. Change your mindset from a quick fix mentality to a dream big mentality and then get to work taking the steps day-by-day doing what it takes to see your dreams through.
ONLINE VOICE COACHING AVAILABLE