This post contains an affiliate link. This means that I get a few pennies should you click on it and make a purchase.
Everybody struggles with it. Everybody. You have a bad day vocally and feel like your voice is absolute rubbish. It messes with your confidence. You don't FEEL that you are a good singer or a good actor or a good speaker. Heck, now that you think about it, you don't FEEL like you have a good voice at all. You can't relax or use good technique, or even have the will to open your mouth one more time, thank you very much. Giving up altogether sounds really good right about now.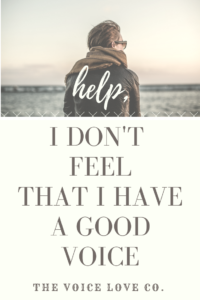 Feelings Are Not Facts
I will admit, the voice is a very fluid instrument that can physically feel unstable at times, and there are many things that can trip it up. From the weather to stress, to hormones, to simply learning how to use the muscles properly as you master transitioning into your upper register. Whew! It can often feel like you are playing a new instrument every day. But, that is not what I am talking about here. I'm talking about how you emotionally feel about your voice.
Did you know: Humans make decisions with our feelings 95% of the time? 
When it comes to anything you face in life, be it your voice or whether or not you are going to hit the snooze button, you make decisions based on how you are feeling in the moment. And that informs the choices we make throughout our day.
When you feel like you don't have a good voice…
Do you FEEL like spending an hour vocalizing and practicing?    Nope.
Do you FEEL like going to the audition today?    Not even close.
Do you FEEL like speaking up for yourself in that difficult conversation?   Ha! As if!
You are never going to feel like it! 
Never! That is the norm, Ladies and Gents. Nobody feels like it. And that is how the majority of people around you are living their lives. Unless you reprogram your mindset, this is the status quo. 
You need to go for what is NOT the norm: You must ignore your feelings, take action and DO STUFF ANYWAY.
 I'm Stuck!
There is the difference between people who ARE stepping out vs. the people who are stuck. The people who are making stuff happen in their lives at a stunning rate are CHOOSING to see themselves as people who take action and then they do something miraculous: THEY TAKE ACTION. Even, and most especially, when they don't feel like it! What is amazing about this for you as a vocalist: When you stop seeing your voice as a big fat fail, you reprogram your mind towards taking action despite how you are feeling, your voice suddenly rewards you with better performance. Try it!
TAKE ACTION!
In the book, The 5 Second Rule, author Mel Robbins gives a really easy way to change your brain from one of living by your feelings to being a person who takes action. It is very simple but requires some discipline to do it. When you feel yourself starting to hesitate and your feelings are starting to bog you down as you go to make a powerful choice for your voice and your Self, count down out loud, "5-4-3-2-1" and then LAUNCH into what it is you know you really should be doing.
Try it the next time your feelings try to talk you out of practicing, or you're tempted to cancel that audition, or you want to walk the other way to avoid the person you know need to confront.  5-4-3-2-1 yourself into taking massive action! Use it to get yourself mentally ready for success to crush the audition, to fling yourself confidently to speak up for what you are needing, and to powerfully engage that practice session
When you make decisions based on your feelings it robs you of your joy, but it also robs you of your voice. You don't have time for that! Decide today to be a person who never hesitates but takes massive action in your life instead. Turn away from your feelings that are telling you lies about yourself, respond in the opposite spirit and take action. Prepare to launch! 5-4-3-2-1. Act the opposite of how you feel. Go for it!  Do it scared. Try it for the next week and watch what happens.
Until next time, get a free I Am Enough! printable to remind you of who you really are!