When I was traveling in Scotland several years ago, I noticed something very interesting.
I was part of a group of worship musicians who sat out art supplies to be used freely during our sets. We kept finding the supplies going unused in session after session by our Scottish audience members, even when many of us on the team would model for them what it looked like to create by jumping in and painting or drawing during worship.
"Baby, You're No Good."
We were told later that very young children in Scotland were given a small window of time to try artistic pursuits. If it was decided that they showed little to no talent for it (at age 3 or 4!), they were discouraged from ever trying to make art again. This explained the hesitancy of the Scots to put color on paper. I got the feeling that not being artistic wasn't even a wounding or a sadness in their lives. It was just their reality.
They very matter-of-factly believed that they sucked at visual art.
The Art of Diminishment
I hear similar stories almost daily as I coach vocalists, only the emotional stakes are a lot higher. Someone in authority, whose opinion was weighty in their life, said or did something that shut them down along the way. It made them discount their own voice. Yet, they just can't shake the feeling that they are still supposed to try to be a speaker. They feel they must try to sing. So, they come and see me.
Diminishment is a cruel companion and one that hangs on, often for decades, if left unchecked. The impressionable beginning actor who tells me that at her very-first-ever audition she was told she is rubbish at accents and should 'never attempt them again' makes me wince. I beg her to please not take the director's criticism to her 14-year-old heart, but I fear that my pleas fall on deaf ears.
The reason? I've also met many the timid middle-aged woman, who so badly wants to sing, but was told by her own mother as a pre-teen a heartless variation on the theme of 'Your voice isn't all that.' What was once a glib, off-handed remark is now a deeply ingrained belief to be overcome. The irony is that once we peel back the layers of pain, the voice itself is actually quite beautiful. Once it is released from the bondage of "You suck!" it is free and powerful.
But What If I Actually Do Suck?
Yes, there are those people on the reality shows who are waiting in line for a chance to audition for the judges. Inevitably they say something like, "My voice teacher thinks I'm amazing and ready for this challenge!" You hear them sing. And they actually really do suck.
It is a joke the show makes at their expense and at the expense of voice teaching professionals worldwide. Whether they are a plant the producers used to make good television or they are actual, real people who are horribly misinformed about their abilities, everyone at home cringes and wonders, "Is this ME? Is this what I sound like? Do I suck like this guy?"
My question is: So, what if you do? Are you allowing the fear of potentially sucking at something to keep you from ever even trying?
The First Step to Recovery…
I liken what I do every day in the sacred space of meeting people one-on-one around finding their voices to midwifery. When you have been told your voice sucks, it involves a good amount of coaxing your soul into health before we can even attempt to birth your voice.
Here is a powerful exercise to counteract the "You suck!" message on repeat in your brain right now. I encourage my students to do this when they are struggling, and I believe YOU need to do it right now.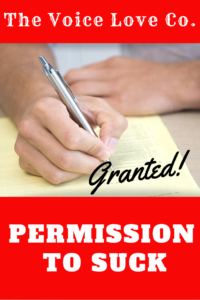 I want you to write yourself a good, old-fashioned permission slip.
Yes, you heard me right.
Go on. Get out a piece of paper, nothing fancy. I'll wait….
Did you get the paper?
On the paper write something along the lines of:
I (your name), give myself permission to suck at (acting, singing, speaking, ETC.). Starting today I give myself permission to be a beginner and I allow myself to learn new things. I accept myself as I am right now. I hereby give myself permission to fail.
Signed,
Then sign your name.
You need to hang this permission slip somewhere where you will see it often, especially when you are discouraged.
Accept & Allow
There is something empowering about this simple exercise that I see happen in my students who really take it to heart. I believe you will find this as well. Giving yourself permission to suck ushers in self-acceptance. Your heart gains access to a little more freedom while you are on the journey. It makes room for self-love. Giving yourself permission to suck silences the voices of the past who have limited you and kept you small. It sheds Light on your limiting beliefs in real time. And it flies in the face of diminishment. Look at your permission slip. Your brain is getting a new message. It is this:
THERE IS

NOTHING

WRONG WITH ME.
There is nothing wrong with you, dear one. It is time to break free from the old messages, lies and limiting beliefs that have kept you from showing up in the world as the fullest version of yourself for far too long. I dare you to try this today. Write your own permission letter. Hang it up. Look at it and let it change you. Let it help you get to work honing your craft, perfecting your technique and strengthening your instrument without apology. 
Whenever you need permission to suck, I'm here for you. Permission granted!
Know somebody else who thinks their voice sucks? Share this on social media if you found this post helpful! Got a question for me? Want me to write about something specific? Let me know in the comments below or head over to our Facebook group and ask away!