I am back to work this week and so very grateful for your thoughts, prayers and words of encouragement after the death of our grandson. They have literally kept us on our feet and moving forward. Thank you for your kindness and care. Onward…

It is a common problem when you are just starting to find your voice that it sounds quiet and even a little wimpy. Here are 10 tips to help you project your voice while singing or speaking, giving you a robust volume that everyone can hear!
Tip 1: Find Your Alignment
If you look like a caveman when you are standing, it could be the reason why you are having trouble gaining volume vocally. Posture suffers when we sit at a computer or are hunched over looking at our phones for a good part of the day. Doing this throws your spine, neck and head out of alignment. When you are out of alignment you lose control over your abdominal strength, and that severely affects your ability to project. Jutting the chin forward forces your larynx into a very difficult position for resonating correctly as well.
To find your alignment, you simply need to lengthen your spine. Imagine a string pulling your head toward the ceiling. Then find your balance point for the skull. Chin should be in a relaxed, slightly downward position. Keep the shoulders relaxed and down. Knees need to be soft, not locked. Hips relaxed as well.  Start to be aware of your alignment throughout your day, but especially while you are singing or speaking. Stand tall and proud! 
Tip 2: Use Your Breath
Now that you've got good alignment, we need to get you breathing. Your breath is the fuel for your voice. People normally breathe shallowly, so the voice doesn't have the power it could. Diaphragmatic breathing is what happens when you take a breath in and the diaphragm pushes all of your guts forward. You have to allow your abs to be soft for this to happen without tension. Don't suck in your tummy. Relax and allow the tummy to swing out. Additionally, the ribs need to be swinging out and around. Think of filling your lungs from bottom to about the breast bone, no higher. Shoulders are not involved. Breath out, holding your abdominal muscles in place to give yourself support.
The goal is you want to engage your abdominal muscles as you make sound without closing your throat. Check your body tension. If you feel tense anywhere, move and shake out the tension. Check your alignment again. Lengthen the spine and take another deep breath. You may feel lightheaded at first breathing this deeply. Take it slow, with some breaks thrown in as needed, but keep going! Your body will adapt and your voice will gain volume having all of this lovely breath underneath it!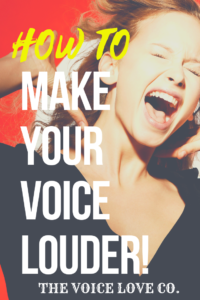 Tip 3: Lip Trills
You are naturally louder when you do lip trills (or buzzing as I call them) because your larynx is relaxed, your jaw is relaxed and your mouth is relaxed. Your voice is traveling in perfect support on the breath. This will help you to have more breath, and therefore more volume when you open your mouth to sing or speak words. The key: Be mindful and aware of keeping your great breath support steady and your volume louder when you stop buzzing, open your mouth and sing or speak actual words.
Tip 4: Use the Hand Push Technique
Clasp your hands together, holding them at breast bone level. Really push your hands together while you are singing or speaking. The resistance naturally engages your core, helping your voice get support and therefore, more volume.
Tip 5: Relax Your Jaw

  
Relax your jaw and open your mouth more to let the sound out. If you are consistently singing through a clenched jaw and your mouth is open only to a tiny diameter, it is hard for the sound to escape. Plus, your larynx will get tired quickly, cutting your volume even more. Singing and speaking this way causes you to feel tension and even pain. Tension in the jaw means you have tension in the larynx. You don't want that. Relax and open up. Massaging the jaw will help this. If you consistently have jaw tension, see a licensed massage therapist who can massage the jaw muscles from inside the mouth as well as outside on the face. It really helps!
Tip 6: Check Your Tongue
What is your tongue doing? Tongues tend to have a mind of their own for people just starting out on their voice journey. Sometimes the tongue likes to roll back in the throat and keep the sound muffled. Be sure to keep it forward so it doesn't block the sound. To do this, practice making sound while jutting the tongue forward like you are showing the doctor your tonsils. Feel what that is like. Then bring the tip of the tongue to rest behind the bottom teeth. Next, breathe as if to yawn to open the throat and sigh a nice open "Ah" sound. As you continue forward, be aware of what your tongue is doing and course correct as necessary.
Tip 7: Crisp Up Your Diction
Once you have your tongue and jaw relaxed and working for you, it is time to turn your attention to your diction. Beginning vocalists tend to have really mushy diction at first. You can look like a pro a lot faster if you keep your consonants crisp and your tongue working for you, not against you. Use the tongue to enunciate your words. Crisp diction electrifies your tone, giving you more volume. Focus your attention on producing crisp consonants while you sing or speak so you are clearly understood. You'll be amazed how crisp, clear diction cuts your vocal breathiness, provides a clear tone and gives your volume a boost.
Tip 8: Use Your Voice
Your volume will get louder the more you use it and train it. Consistent, healthful vocalizing will help your voice get stronger. The voice is a wind instrument made of muscles. These muscles can be strengthened, but to do that, you need to be vocalizing. Often. Regularly. Just vocalizing, not singing songs. This goes for speakers, too. (Warm Up Speakers!) Go for a goal of vocalizing for one hour a day. But be careful! Start in five-minute increments and work your way up. If you are just starting out in your journey as a singer or speaker, this will take time to build up the vocal stamina to accomplish. By investing the time daily to vocalize, you are building your breathing, your muscle strength, vocal strength, and your endurance. All of these will help you sing louder over time. If you never vocalize, and only sing or speak when you get up on the stage, it is going to be difficult to gain volume. Develop the habit of daily practice!
Tip 9: Cure Your Nerves
It is said that 'preparation is the mother of skill'. If you are feeling nervous about getting up to speak or sing spend time preparing. Prepare in every way AHEAD OF TIME: mentally, physically, emotionally as well as preparing the material you are presenting. Confidence is not something you are born with. It is a SKILL. Quit expecting yourself to not feel nervous. Nerves are a normal response to putting yourself out there. Where things go wrong is when you feel the nerves and start to focus on yourself and fight with your anxiety at that moment you are stepping on stage. This only makes anxiety worse. Instead, accept and allow. Accept that you are going to feel nervous, allow yourself to feel what you are feeling, and then focus on why you are actually there. You are there to share your message, your song, your presentation with others. Focus on your 'why'. Get crystal clear on why you deserve to be on that stage to share your voice. One thing I can assure you of: dealing with nerves gets easier and easier each time you take that platform to perform. 
Tip 10: Get One-On-One Training
I tell every person who studies with me YOU are your best voice coach because you are inside of you 24/7. What I mean by that is this: If you ask yourself the right questions as you are making a sound (where am I tense? how can I make this sound more freely? etc.) you can make great gains toward your goals vocally on your own. However, asking yourself good questions while you are making sound requires that you are fully engaged and awake to what is really happening in your body when you sing or speak so you can then make the right corrections. That can be hard to do as a beginner when you still don't know what to look for as far as good technique goes. It is wise to hire a voice coach who can help you identify your trouble areas and get you on the right path towards healthy vocal habits. There are also wonderful coaches and teachers across the nation who can give you some mentoring and help. I do online voice coaching here via Skype at The Voice Love Co. Get online coaching HERE. 
You Got This!
Gaining vocal volume can be done, but again be careful! It takes time. There are no instant fixes. Don't push your voice past what it is capable of before it is ready. Use the tips above to baby step your way forward little by little towards the vocal release and freedom you need in order to gain volume. Give it time. You will find that you will build your vocal volume as you put all of these tips into practice. Don't get discouraged. Keep at it. You can do it!