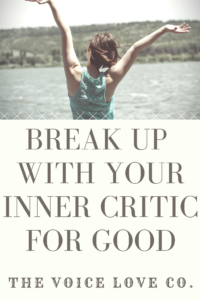 What does your inner critic say to this statement?
"Your voice is a unique instrument like none other in the world."
Did it grumble something like, "Yeah, it's unique alright! Uniquely awful."?
With people fearing public speaking more than their own death, that is a 'normal' response.
But let me tell you a little secret: Your voice is very much connected to your mindset.
The voice is like the codependent girlfriend who is addicted to her narcissistic boyfriend (the mind). And their relationship right now is toxic. Her self-worth is dependent on his opinion, and his opinion is: she's a train wreck. She accepts his message and he enjoys saying it. And this vicious cycle continues on and on to the point where she is crippled in every way.
Your Psychology Affects Your Physiology
When it comes to your voice, your psychology affects your physiology. I've literally seen vocalists whose throats constrict into a cough when they try to make a sound because of this connection to the fact that their inner critic tells them they sound terrible. It becomes a self-fulfilling prophecy at that point because the voice cannot even make a squeak.
If you have your mind set on the fact that your singing sounds terrible or that you are not a public speaker or that you cannot memorize Shakespeare, your brain will go into overdrive. It will make sure that your inner critic (the narc boyfriend) is the loudest thing you hear at all times. The inner critic will do his level best to reassure you that your fears are correct. Your adrenaline spikes even more than are normal in stressful situations. Breathing becomes shallow and you lose your volume. You may even need to stop speaking altogether because you feel like you might hyperventilate. Sound familiar?
It is time to break up with your inner critic and move you past this annoying series of events! The inner critic does not get to rule your vocal performance or your life. But in order to make a clean break, you must change your mindset. Here are two very important ways to cut ties with your inner critic for good.
Accept and Allow
Accepting and allowing yourself to be where you are right now and feel what you are feeling is crucial. Surprised? It is true. Caring for your voice is very much like parenting a scared little kid in real time. Would you scold a baby learning to walk for the first time, every time they fall down? No. But that is what we do to ourselves when we are trying to learn and grow in anything that is important to us. This is how you must look at your voice when your inner critic is screaming obscenities at you. Your voice is the tottering little child learning to do something new. It is counting on YOU to be a good parent, coax it forward and cheer it on as it learning, NOT join forces with the inner critic in tearing it to shreds.
Let's say you are preparing to give a toast at your dear friend's wedding and you, like most of humanity, are deathly afraid of speaking in front of people. When the old message of "You suck! Why are you even trying to do this? They totally should have asked somebody else to be best man." comes up, STOP. Take a deep breath, maybe two, and then actually say out loud with slow, deep breaths in between each sentence, something like…
"I'm safe! These nerves are NORMAL. I absolutely accept my voice right now as it is today. I'm allowing myself to be a beginner. It is okay that I'm learning. I KNOW that I can do this."
Say It Again
Okay, I've heard it before. "That's cheesy," I'm told when I suggest this. But listen, saying affirming messages over and over again, even if you don't totally believe them, will help your breathing to loosen. Let go. Let relaxation seep through the fear. Then start to practice your speech again. Repeat as necessary. When just thinking about the wedding causes dread to creep in, stop, breathe, move your body to loosen up the tension and say positive messages under your breath or even mentally. Continue to accept and allow yourself to feel what you are feeling. Give yourself lots of reassurance. It's only cheesy until you try it and it actually works.
Breathing deeply, doing some gentle movement to break up the tension, and working to bring your heart rate down when you are not in the stress of 'go time', is key to helping you start to learn to retrain your brain towards relaxation and not 'fight, flight or freeze'. The fact is that this mechanism in the body IS normal. It is the way we were created to protect ourselves from the scary lion who was trying to eat us. What is crucial now is to accept that it is okay to feel scared. Allow yourself to feel what you are feeling. Then change the way your conscious mind thinks about that thing that you are afraid of.
Reprogram Your Subconscious Mind
Much like what you would consciously do to manage your fear, your subconscious mind can be encouraged to step up and be part of the solution, not the problem. You can actually program your subconscious to HELP you do anything in life. I have found this to be a crucial step to helping my students find vocal freedom over the years. It is especially important when you have been told over and over by other people that your voice is bad or you had a bad experience getting up in front of people to give an oral report, etc. When you become the boss of your subconscious mind and tell it how things are gonna be instead of letting it run wild with all of the negative messages, images, and memories you've stored in there over your lifetime, you actually can meet your goals for your voice much more quickly.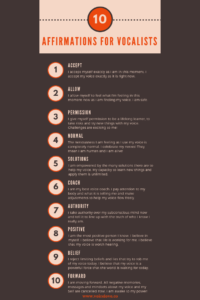 Get A Better Voice Today With This Free Resource
Click the link below to get your free printable '10 Affirmations for Vocalists' and reprogram your conscious and subconscious mind for vocal freedom. Read this list of 10 positive messages aloud every day as part of your vocal warm-up, and transform your opinion of your voice and yourself from the inside out. Guaranteed.
Your voice and brain need a healthier relationship with each other. They are counting on YOU to do the work to discount the inner critic's opinion of you for good. Consciously and subconsciously changing your mindset on any topic where you are wanting to see personal growth is the worthwhile process of inserting new messages into the place of the old. Figure out what you want your voice to do, and then get to work speaking those things into existence. Get the resource above and transform your mindset daily. Then keep using it to reprogram your voice for success! Let me know in the comments below how they work for you.
Until next time, remember…THE WORLD IS WAITING FOR YOU!