Disclosure: As an affiliate, I receive compensation if you purchase through any of the links on this page.

In the movie, I Feel Pretty, Amy Schumer plays a lonely single girl who wrestles with her weight and a severe lack of self-confidence. She believes that she is ugly. You see her undress down to her Spanx and cast a look of utter disgust at her own reflection in the mirror that is heartbreaking. It isn't until she bumps her head in a spin class when she 'comes to' mentally transformed. She is thinking powerfully positive thoughts. She sees herself as not only beautiful but hot! 
The rest of the movie plays out with the hilarious Schumer celebrating everything about herself and in turn, the world opens up to her and becomes her oyster. From her career to her love life she approaches everything with this total belief: I AM AMAZING! She suddenly is enjoying all the things she wanted in life because of her powerful belief about who she is.
The Voice-Mind Connection
It got me wishing once again that there was something external like this that would increase the belief inside the vocalists I coach. One of the hardest things about my job is getting people to believe in themselves! It got me wishing for a whack over your consciousness (or your subconsciousness, whatever it takes!) that suddenly awakens you to all that your voice…and YOU…are actually capable of! Dumbo's feather that, if you hold it, it makes you fly. I just wish there was a swift kick in the rear that will help YOU believe you CAN.
In my experience, the act of using your voice to sing or speak is 80% psychological and 20% mastery over your body mechanics.  This is a mental game first. Voice teachers around the world may disagree, but in my nearly 30 years of coaching, I've too often seen a vocalist's confidence shattered by their own self-loathing to the point that it literally shuts them down physically. I've seen people's throats close off to where they actually choke themselves because of their own negative self-talk! 
Because of this, I'm a big believer that:
 What you think
becomes what you feel
becomes what you experience in your daily life.
In other words: Your thought life can make your voice or it can break it. The choice is up to you to believe that you CAN. Your vocal performance is related to what you are thinking about yourself, plain and simple.Click To Tweet Your vocal performance is very much related to what you are thinking about yourself. Learning to use your voice is a mental game first.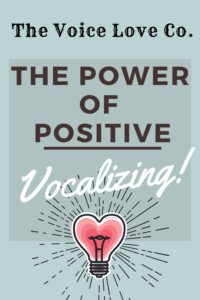 High Performers Think Higher
I am fascinated by the way high performance, high endurance athletes prepare for their races, matches, and games.  It is interesting to note that the very best of the best athletes build their confidence by speaking positive, affirming words to themselves.  They watch their self-talk very carefully.  The athlete uses the technique of creative visualization where they vividly run their race mentally, rehearsing winning in their minds before the event even occurs.  They take this 'thought' business very seriously.  It is literally their livelihood on the line.  They have a lot to lose if their thought life goes down the tubes.
Scientists and researchers have measured the brain waves of elite athletes while they have been thinking these winning thoughts.  They have found that the brain experiences the athletes 'rehearsed' race no differently than a real race.  Let me repeat that:
The brain experiences the 'rehearsed' race no differently than the real one.
This is amazing to me! Science shows that your brain does not know what is real and what is not. Therefore, you can literally think your way into the positive outcomes you are seeking for your life. You create your own reality just but the thoughts you are thinking.
Here are 3 ways you can use your mind to think your way to a better voice starting today!
1) RECOGNIZE that your thought life needs a total makeover.
How is YOUR self-talk?  Constantly critical?  Does your inner dialogue sound like a trash-talking Greek chorus of how terrible you are? For the next 24 hours, I want you to take stock of your self-talk. Keep an actual log of your thoughts about yourself.  Physically take a moment to write them down as they come up. Be honest, and get ready to be surprised and maybe even a little horrified as you write these mean things down. We are never more unkind to anyone than we are to ourselves. Take stock of your self-talk as a move towards understanding where your thought life needs the most work. When I have students do this exercise, they come back with these findings: I am so mean to myself! I am super negative! So, know that you are not alone.
2) REPLACE those negative things you say about yourself with positive, affirming words.
This will feel fake at first and maybe even like you are climbing an Mt. Everest sized pile of negativity.  So, just pick one area to tackle. After looking over your log, pick one area in particular that you most struggle with to think positively about.  Remove the negative messages you always feed yourself, being sure to replace it with a positive one. Push past your negative norm towards abundance by learning the art of Speaking UP!  The act of literally speaking positive words about and over yourself might be a foreign language to you, but with a little practice, you can be fluent in no time. It is so important, not just to how you are sounding vocally, but to who you are in the world. How you are showing up today.
If you are negative about your voice, you might replace your usual "I stink at this, I should just give up" thought with a kinder, "I love my voice. Every day it opens up and releases more and more freely." 
Yes.  I'm serious.
Doing this is a CHOICE. Do you want to get better? It requires self-discipline that may cause you to feel uncomfortable. Do it anyway! How badly do you want to see change in your voice? You must reign in your thought life to make this change, but it will be worth it. I promise!
3) RESTORE your smile!

 
How does smiling affect your thinking, you may ask? Even if you are gritting your teeth, smiling tells your brain you are happy.  A saying that I just love is: Fake it 'til you BELIEVE it. Smiling will assist you in shrugging off your limiting beliefs, and help you obtain positive beliefs about yourself and your abilities. Plus it is an excellent way to raise the soft palate, giving your voice a brighter and more focused tone when you speak or sing.  So, it is two for one!
I am talking about the power of positive vocalizing, which is actually the power of positive thinking about your voice.
Practice Makes Perfect
Listen, practice makes perfect when it comes to this stuff. Just like whatever art form you do, there is no magic pill you can take to make you better at it overnight, darn it!  You have to practice. Just as you vocalize every day to strengthen your muscles and gain greater consistency and endurance in your voice, so should you practice thinking higher thoughts about yourself daily.
Your thought life is powerful change agent to get you where you are wanting to go in your life. Hopefully you can tap into this power without the need for a hit in the head like Amy Schumer.
If this sounds like an exercise in futility to you, consider this: How badly do you want to change?
Change happens
when the pain of staying the same is greater
than the pain of change.
Your thought life is a powerful change agent to get you where you are wanting to go in your life. Hopefully without a need for a hit in the head like Amy Schumer. 
I hope you will work on your thought life and clean up your self-talk because you are worth working on! The world is waiting for you to step into your power, into your message. So get to work! Give these techniques a try and let me know how they work for you in the comments below!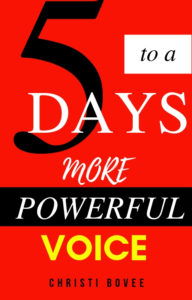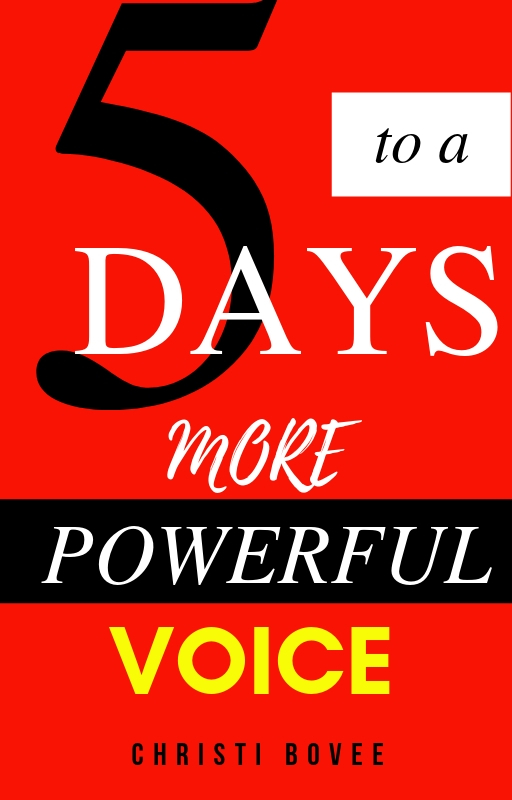 Be sure to sign up for my free 5 Days to a More Powerful Voice e-course. Five videos will come, one each day to your email inbox using my Functional Voice Coaching Method™.