It is maddening when it happens. You are trying sing or speak and every time you hit the same area of your voice, it goes off the rails uncontrollably. You can't seem to move past the infuriating yodel or break and it is making you crazy.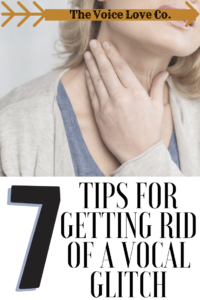 Here are 7 tips to ease the sitch with your vocal glitch:
Tip 1: Massage your jaw while you are singing or speaking.
When I say massage, I mean really work the muscles in your jaw with your fingers as you are making the sound. It should cause your diction to become interrupted and even muddled, and that is okay. Jaw tension definitely affects your larynx. You may need to do this all the time while you are practicing until you can loosen up. You also might need to sing or speak only in open vowels while doing this, no consonants that require your jaw to bite down. 
Tip 2: Shake your head "No" while you sing and speak through the trouble spot.
Then try shaking your head "No" while massaging the jaw to break up the tension. Often you'll find when you try this that your neck freezes up and you look like the Tin Man trying with great effort to move as you sing or speak. If this happens, it should alert you that your neck tension is a problem that could be the reason the voice isn't vibrating smoothly.
Tip 3: Sing or speak while bent forward at the waist. 
Let your knees be bent slightly, never locked. Head, shoulders, and arms should droop forward like a rag doll. Focus on keeping the top of your head towards the floor. You will find if you are dealing with this sort of tension, you can't allow your head to just drop.  Have someone massage the back of your neck while you are trying this to get the neck to release and drop the head. Additionally, focus on the expansion in the back ribs when you take a breath. Sometimes focusing on something else while you speak or sing from this position will allow the voice to shake free of the glitch. It feels very different to sing and speak from this position of being bent forward.
Tip 4: Lay on the floor and speak or sing from there. 
Allow your whole body to relax and sink into the floor. Then take a deep breath and try speaking or singing through the trouble area. See if this diffuses some of your body tension. Again, this position feels strange to sing or speak from. You might find that you feel winded or breathless as gravity pushes down on your chest, and sometimes once you are back to standing upright, you'll find that it resets your voice and you suddenly have more vocal freedom than you did before.
Tip 5: Get out of your own head! 
We are often our own worst enemy when we give in to limiting beliefs about ourselves. It is fake news, folks! Take time to crush the lies that are dogging you and keeping you from your goals vocally. Do all you can to keep your focus on something positive that keeps you moving forward. Take a hot bath. Try doing yoga. Start running. Listening to or reading personal development material will also put you into a different mental state about who you TRULY are and what you are actually capable of. Focus on who you will help when you show up and use your voice and force yourself to look past any limitations in order to stay on the path to being there for that person or people group your gifting is going to help.
Tip 6: Deal with any Trauma. 
This tip may surprise you, but trauma can definitely affect your voice's ability to resonate freely. Have you had any sort of trauma recently that might be causing this glitch to spring up suddenly? Car accident? A fall? A breakup? Stress that might be causing you to grind your teeth? You might consider seeing a counselor to talk through any residual PTSD from trauma. See a chiropractor if your body could be out of alignment. See a massage therapist who can not only do trauma work but actually work on the jaw from inside the mouth as well as outside to break up any tension. They put on rubber gloves and work those muscles. It is painful, but helps so much!
Tip 7: Correct any swelling on your vocal folds. 
When in doubt, do some detective work with your health. Often I see clients who suffer from acid reflux but they do not realize it. Acid reflux can cause irritation for the vocal folds as can post nasal drip. See your doctor to rule out these two causes, as well as any environmental or food allergies. Be sure if you are prescribed any medication that it is healthy for your voice and doesn't dry it out. Tell your doctor that you use your voice for your work and that whatever they give you must be absolutely gentle for your voice and not create more problems. 
Vocal inconsistencies can be maddening, but often they will subside as quickly as they popped up. Stay calm, breathe, take excellent care of yourself and be sure not to scream in frustration at them! Keep forging ahead. Finding your voice and making your sound is a lifelong pursuit. Let me know if I can assist you in any way along this journey. If you've found any extra tips that have helped you, please leave a comment below! We love learning from each other!