Post #3 in a series of 5 Things You Need to Quit in 2019.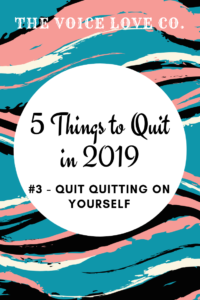 Now that we've gotten your relationship with yourself in process, here is a question for you:
How many promises have you made to yourself that you've actually kept over the course of your lifetime?
We often go to the ends of the earth to keep a promise to a friend, loved one or even an acquaintance. However, when it comes to keeping a promise to ourselves, we are often last priority and the first promise we break without so much as a thought.
Broken Promises
It is so easy to do, isn't it?
The slippery slope of hitting the snooze button instead of getting up early to write.
The ease with which you can spend an hour on Instagram instead of an hour working on your voice.
"Accidentally" double booking the open mic night or Toastmaster's meeting with something you know is totally lame.
Or, you might not know you are doing it at all.
You have good intentions to keep your promises to yourself in the new year and finally see your dreams through. Yet, when the day-to-day grind of putting forth the effort to hone your craft gets too monotonous, you get bored and talk yourself out of continuing. Maybe you manage to push through the monotony, start to gain traction, and suddenly realize that it is time to get out there and be seen and heard. You get scared and you take the route that feels more comfortable. You quit. 
Quit Quitting On Yourself
I've seen this happen a lot. It is a conversation that usually comes around the four to six-week mark of working with a client. It goes something like:
"I need to stop coaching with you."
"Oh, really? I'm sorry to hear that. May I ask why?"
"Well, I'm just not making any progress. I don't want to waste your time."
"I see. So, where does your goal of (insert amazing goal they set for themselves when we first started working together) figure in now if you quit?"
"Oh, uhm…yeah…well, I just don't think I'm supposed to do that after all."
There is a sadness in these conversations as people wrangle their doubts and fears. The threat of them being defeated by both is clearly looming. A lack of confidence in themselves overwhelms them to the point of quitting on themselves and on their dreams. I know I have to act fast. So, I ask them to put off quitting by one week, go home and immediately do this instead…

First, take a stack of Post-It notes and write I AM ENOUGH on each one. (Or download this free printable!) Hang them up around your house, car, and office. Put them over the sink where you stand washing dishes. In the shower. Inside a medicine cabinet. Where you keep the dog food. In your planner. On your desk at work. Put them anywhere that your eye will fall on it. Next, set your alarm on your phone to message you throughout the day at times when you most need it with, you guessed it, I AM ENOUGH.
Clients who have taken this assignment to heart and really allowed I AM ENOUGH to sink in have not only stayed the course in their studies, they have improved by leaps and bounds much more quickly. They've crushed fear and stepped into the arena with their voices in powerful ways. I AM ENOUGH changes the way you see yourself. It assigns you tremendous value, and it is impossible to quit on something you highly value.
You Get What You Accept
What if 2019 was the first year of your life that you didn't quit on yourself no matter what? How would 2020 look? You get out of life what you accept. If you continue to accept that when things start to get difficult or uncomfortable or monotonous that you can quit, then you will always quit. If you continue to accept yourself as less than valuable, then it will be easy to hide in your comfort zone. Quit quitting on yourself this year! Don't accept that. You ARE enough. Take that message to heart today and start to believe it.